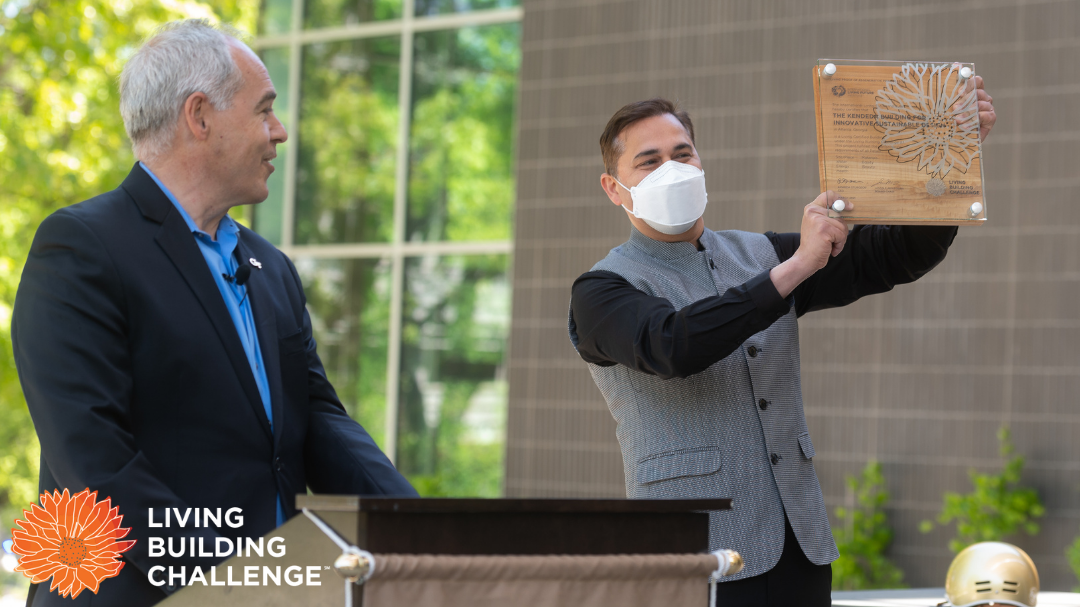 This is an understatement: it has been a rough couple of years. While there has been tremendous suffering, the global pandemic has shown that we are a resilient species. As with the rest of our campus, The Kendeda Building staff has persevered. Utilizing the virtual tour and social media channels we launched in 2020, as well as strategic partnerships, we increased the building's outreach in 2021.
We started 2021 with a panel discussion regarding how The Kendeda Building can influence a sustainable response to COVID-19. We partnered with the Museum of Design Atlanta and brought a portion of their biophilic design exhibit to the building. And we became the latest location to host Georgia Tech's Transformative Narratives exhibit.
We partnered with Georgia Tech Arts to bring world-renowned sculptor Patrick Dougherty to campus. His team along with dozens of volunteers created a stickwork sculpture in the EcoCommons adjacent to The Kendeda Building. We hosted a Climate Change and the Design of the Built Environment symposium. And most importantly, we achieved Living Building Challenge certification thereby becoming the first in Georgia and the 28th in the world to achieve this inspirational goal.
Below is a review of all we have accomplished in 2021. Our work is just beginning. We hope you join us in advancing the cause of regenerative buildings, communities, and cities.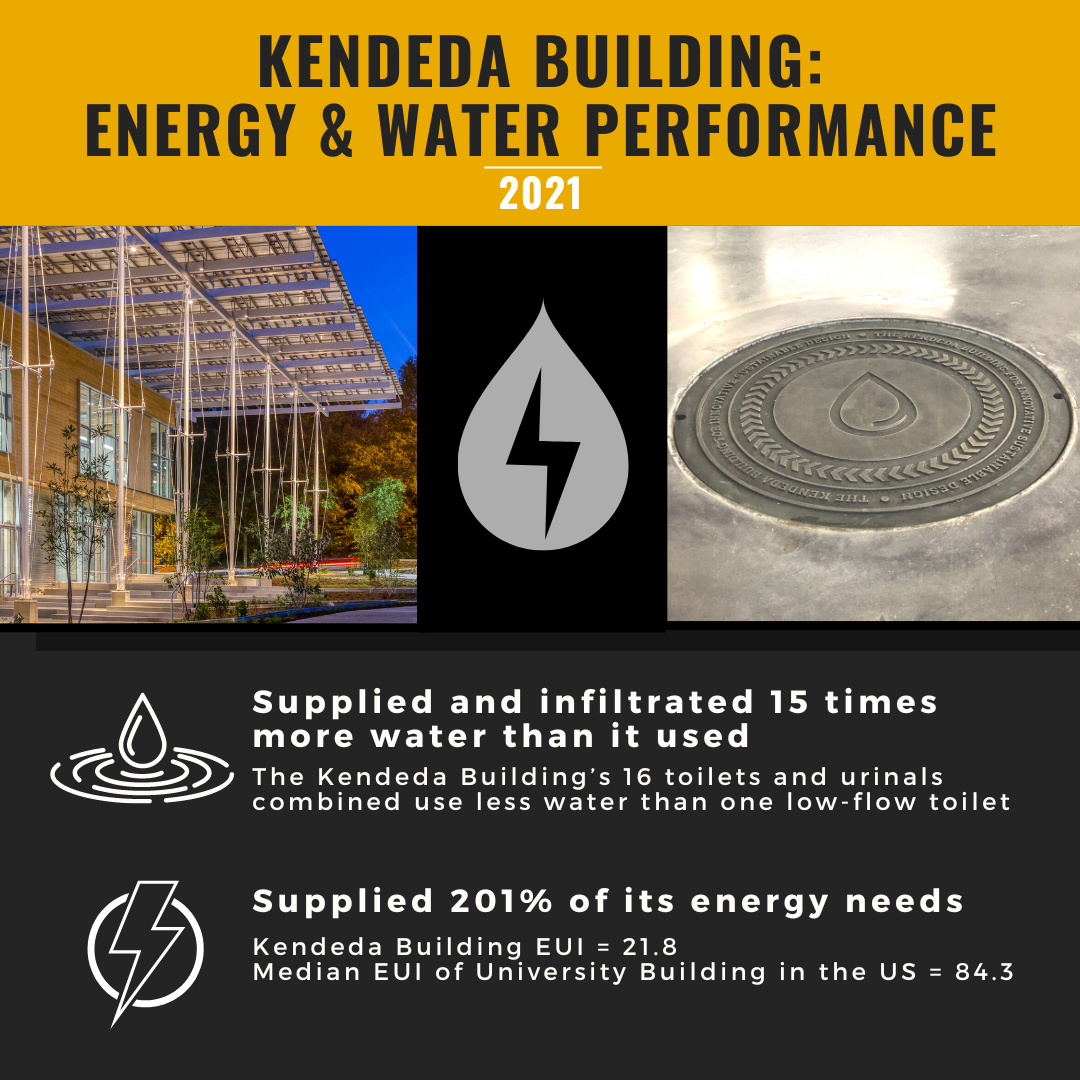 The Kendeda Building was easily net positive for water and energy during 2021. Using an analysis that combined occupancy and modeled data due to COVID, the building supplied and infiltrated 15 times more water than it used. It supplied 201% of its energy needs, far exceeding the 105% Living Building Challenge requirement.
As with 2020, The Kendeda Building gave back more water and energy last year than it used! The key was efficiency. For example, foam flush toilets that sip water and a well-built building that is 60% to 80% more energy efficient than a comparable new, conventionally built higher education building in Atlanta.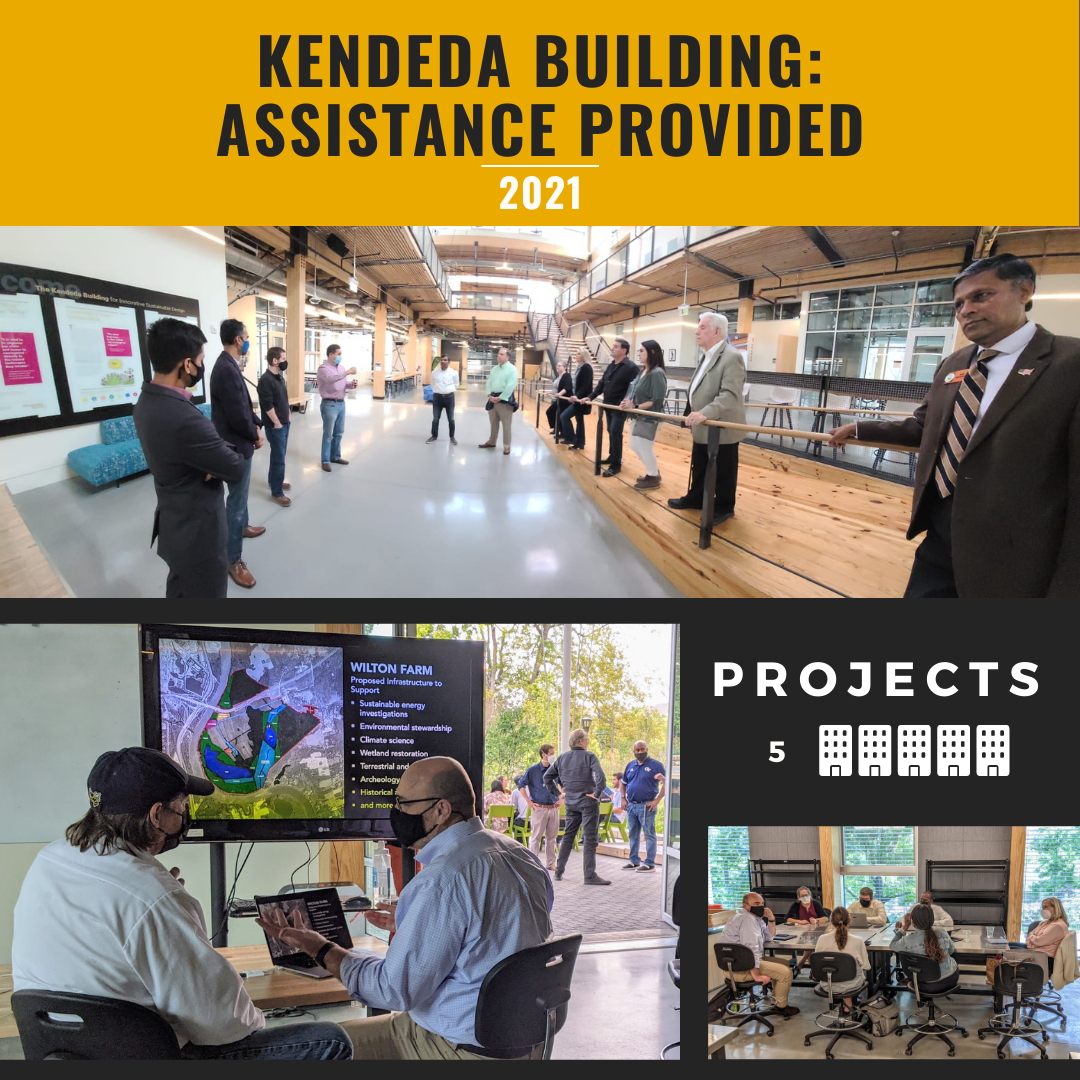 The true measure of Georgia Tech's success with The Kendeda Building is each opportunity we have to promote regenerative building ethos. To this end, we are proud to have assisted five projects advance their building towards regenerative design, construction, and operation. Four projects are in metro Atlanta and one in is in Virginia. The best award is seeing The Kendeda Building fulfilling its mission to be a catalyst for change in our region and beyond.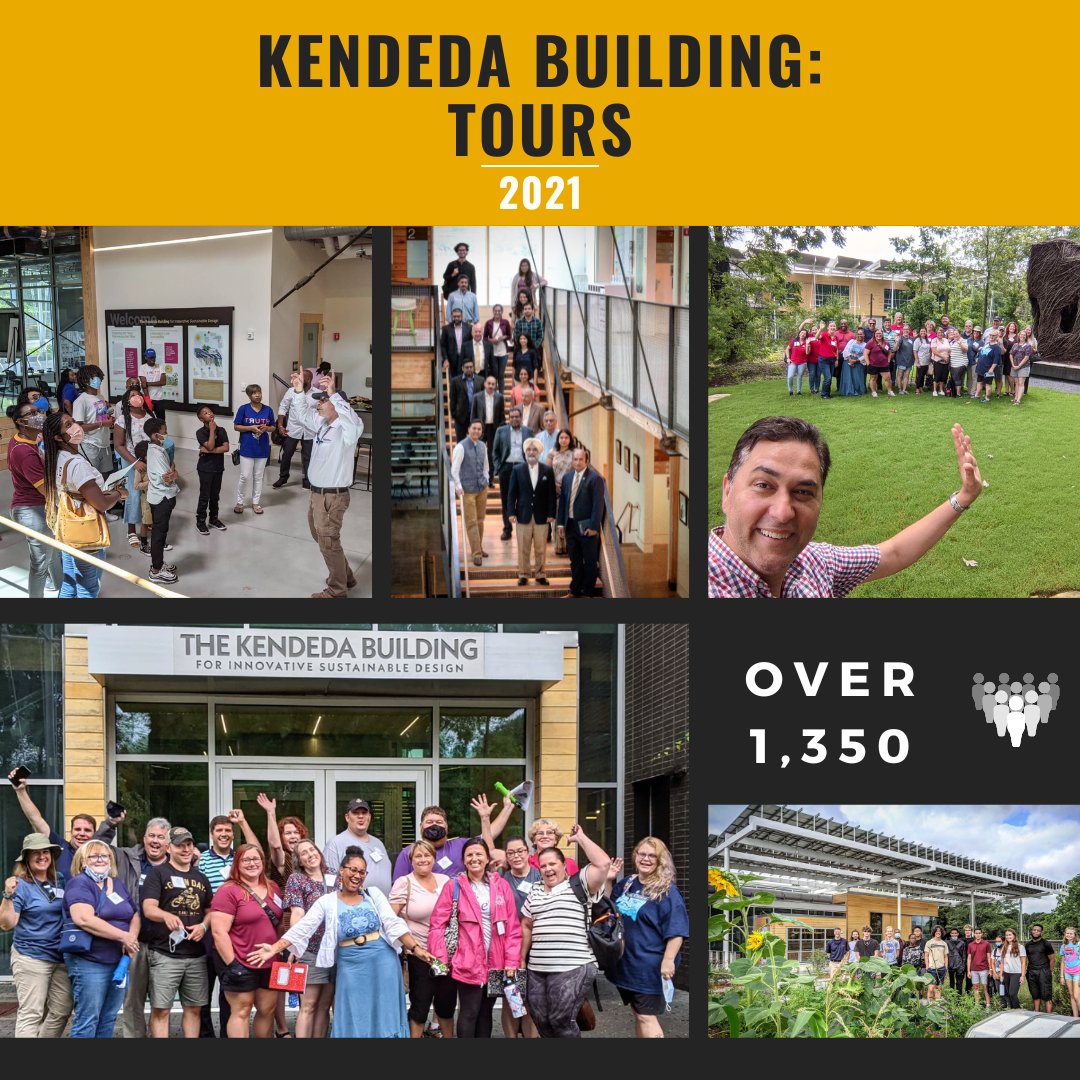 Seeing is truly believing. Therefore, tours remain our primary form of engaging a diverse group of changemakers. The over 1,350 people who took an in-person tour of the building included: 
State, county, and city

elected officials

Local and state employees charged with overseeing civil infrastructure and buildings

Electric utilities

School districts

Major corporate owners of real estate

Building industry trade groups

Architects and builders

Nonprofits that focus on sustainability and/or equity

Students
We even gave tours to Hollywood celebrities, India's Ambassador to the U.S., and a former U.S. Senator! Interested in seeing for yourself? Sign up here.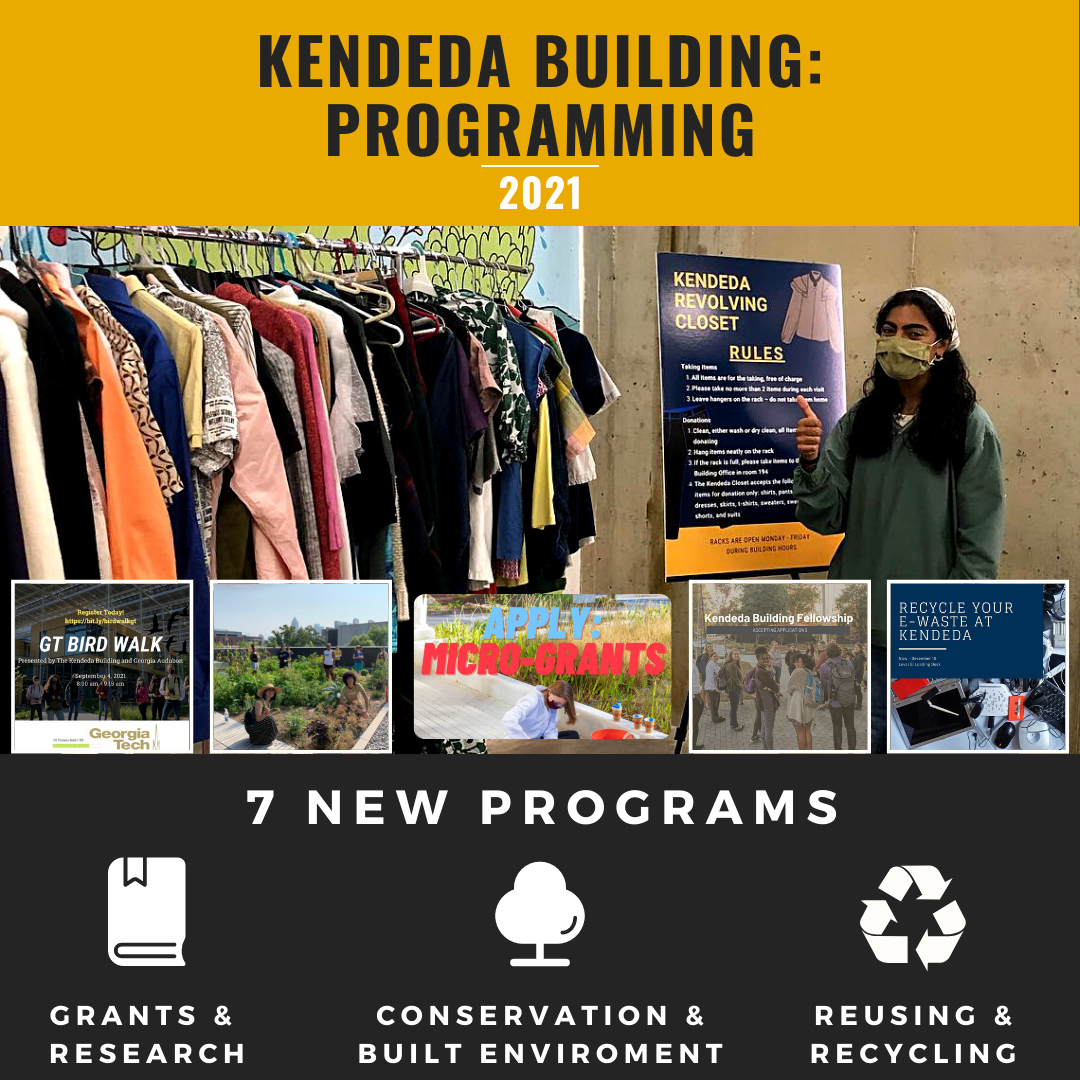 In 2021 we launched a collection of programs focused on the seven Living Building Challenges Petals: Place, Water, Energy, Health & Happiness, Materials, Equity, and Beauty. 
Urban Naturalist Certificate
In cooperation with the University of Georgia Extension Service, a Georgia Urban Naturalist Certificate course for college students in across the state.
Urban Farming
Supervised urban farming by an undergraduate group (S.O.S.) and a graduate group (BBUGS) on the building's rooftop with multiple plantings and harvests a year.
The Kendeda Revolving Closet
In response to waste created by "fast fashion," the Kendeda Revolving Closet allows anyone to borrow, donate, or recycle old tattered garments. 
E-Waste Recycling
To highlight the hazards of e-waste as well as unethical e-waste recycling practices, the building hosts a permanent e-waste collection area. The e-waste recycler is a metro-Atlanta firm committed to Responsible Recycling (R2) Practices.
Bird Walks
Because we have re-wilded this area of campus, we host periodic bird walks led by the Georgia Audubon Society that educate participants about urban natural habitats and how buildings can be built / modified to dramatically reduce bird strike deaths.
Micro-Grant Program
To give students a lower-effort experience with grant writing, we launched a micro-grant program that provides up to $500 to investigators testing new solutions to old sustainability problems, or conceiving or prototyping new products or processes that increase regenerative design or operations.  
Kendeda Building Fellows Program
Our inaugural group of Fellow have a diverse academic background and come to Georgia Tech from across the nation. They lead tours of The Kendeda Building, execute data visualization, and create social media content that furthers the mission of The Kendeda Building.
Health & Happiness
Health & Happiness, which is a Living Building Challenge performance area, is difficult to quantify. However, we know that The Kendeda Building has brought much happiness. Students unplugged through our urban farming program. They took classes and found focus on our front porch. We danced, laughed, and reconnected with old friends. Follow us on social media to get your weekly dose of Kendeda Building happiness.