Endorsing products that are safe for all species through time
"The intent of the Materials Petal is to help create a materials economy that is non-toxic, ecologically restorative, transparent, and socially equitable." International Living Future Institute
The Imperatives in this Petal aim to remove the worst known offending materials and practices in construction and to drive business toward a truly responsible materials economy. The five Imperatives include:
Sourcing materials that are Red List free
Tracking embodied carbon from construction
Using salvaged materials and responsibly sourced wood and stone
Striving to eliminate waste during construction
Sourcing materials from local industries
The Materials Petal affects all disciplines of the project team and requires a great deal of coordination between architecture, interiors, structure, civil, landscape, mechanical, electrical, and plumbing teams. The Kendeda Building intentionally has a limited materials palette – mostly wood with limited use of steel and concrete – and has chosen to leave several systems exposed, more than in a typical building, in order to limit unnecessary and potentially harmful materials.
The Red List Imperative
In version 3.1 of the Living Building Challenge, the Red List is a list of 22 worst-in-class materials or chemicals (777 in total) with the greatest impact to human and ecosystem health. The Red List Imperative aims to eliminate the use of worst-in-class materials and chemicals with the greatest impact to human and ecosystem health. Some commonly recognizable items on the Red List include asbestos, formaldehyde, lead, mercury, and PVC.
In order to avoid the use of Red List materials, the design-build team must thoroughly vet the proposed materials during design phases by selecting and specifying products that are documented as being free of Red List materials or chemicals. In addition, the team is responsible for advocating for change and transparency among industry material suppliers.
During construction, the construction management team is continuously monitoring all materials delivered to the site for Red List compliance – this includes materials and products required for installation. One way of ensuring that materials and products are compliant is to search products baring the Declare Label, Healthy Product Declaration (HPD), or Cradle to Cradle products.
The Declare program, which was developed by the International Living Future Institute (ILFI), provides a "nutrition label" for and online database of compliant building materials. This not only provides manufacturers with a clear and informative pathway for disclosing the ingredients within their products, it also provides project teams an evolving database of compliant products. Teams are encouraged to select products through Declare to ensure they meet Living Building Challenge material requirements.
In the event the project team selects a product for which no Declare Label exists, the team advocates for disclosure of product ingredients. This requires seeking Chemistry Abstract Services (CAS) numbers from manufacturers for the ingredients within their product. Sometimes, manufacturers may not disclose the ingredients included in their materials. At that point, the product is replaced with a Red List compliant product or, if possible, deemed unnecessary and excluded from the project in its entirety. For example, on The Kendeda Building, the decision was made to eliminate the mastic coating on the underground chilled water pipes.
However, ILFI also understands that given market availability, or lack thereof, not all necessary materials are able to comply to the Red List; hence, ILFI grants limited exceptions only after a due diligence process and if a material is required to construct the project and no alternatives exist. Specific to The Kendeda Building, the glue adhesive used in the glulam to assemble the Glue Laminated Timber was granted an exception. The project continues to advocate for change in the chemical composition of glulam adhesive, which currently contains up to 10 percent phenol – a Red List material.
Complying with the Red List is one of the most difficult aspects of the Living Building Challenge. To support other projects, we are happy to share our product list. The Bullitt Center's product list is available here. 
Embodied Carbon Footprint Imperative
The Embodied Carbon Footprint Imperative strives to minimize a project's carbon footprint ­– the carbon that is associated with the materials used to construct the building. In addition, the Imperative aims to offset the environmental impact of the project's construction process.
To meet this Imperative, the design-build team incorporated carbon reduction strategies early in the project's design phase. For example, with The Kendeda Building, wood is the primary structural element because is has one-sixth of the embodied carbon of steel or concrete.
Throughout the project's development, the team must account for the total embodied carbon impact from its construction through a one-time carbon offset purchased from an approved carbon offset provider. At the end of the construction, the project team must use an approved calculator to determine the project's construction-based embodied-carbon footprint and purchase Certified Emission Reductions (CERs) or Verified Emission Reductions (VERs) from an acceptable Green-e Climate (or equivalent) verified program to offset 100 percent of that footprint.
By recycling over 99% of construction waste, incorporating salvaged materials, and utilizing low carbon materials, the project's carbon intensity was approximately 30% below the Carbon Leadership Forum's embodied carbon median for educational buildings. The Kendeda Building then achieved zero carbon footprint for construction via a one-time carbon offset that funded new solar projects in India.
Responsible Industry Imperative
The Responsible Industry Imperative aims to reduce the damaging environmental and social impacts related to industries that rely on natural resource extraction and plant cultivation. Natural resources include stone and rock, metal, minerals, and timber. 
To satisfy this requirement, Living Building Challenge v. 3.1 projects must advocate for the creation and adoption of third-party certified standards for sustainable resource extraction and fair labor practices. All non-recycled wood on certified projects must be FSC (Forest Stewardship Council) Certified. In addition, teams using stone to construct the project must advocate manufacturers to pursue ANSI Natural Stone Council Standard certification. Lastly, all projects must use – at a minimum – one Declare product for every 500 square meters of gross building area and send Declare program info to at least 10 manufacturers not currently using Declare.
The design-build team for The Kendeda Building was able to incorporate the some of the stone needed from a salvaged source – the former Georgia Archives Building. Stone needed for the structural slab came from the Forest Park Stone quarry located in Forest Park, Georgia. In addition, all wood used on the project is either salvaged (see link below for more information on salvaged materials used in the project) or FSC certified.
Living Economy Sourcing Imperative
The intent of the Living Economy Sourcing Imperative is to support investment in local economies that stimulates local economic growth, strengthens community ties and development, and minimizes environmental impacts associated with transportation of products and people.
In order to do so, the project must incorporate place-based solutions and contribute to the expansion of a regional economy rooted in sustainable practices, products, and services. As such, for Living Building Challenge v. 3.1 the manufacturer for materials and services must be located within the following distance parameters.
At least 20 percent of materials should be sourced within 500 km (or approximately 311 miles) of the project site.
If necessary, an additional 30 percent of materials can be sourced from within 1,000 km (or approximately 621 miles).
If necessary, an additional 25 percent of materials can be sourced from within 5,000 km (or approximately 3,107 miles).  
The Kendeda Building project incorporates locally sourced wood and brick. The project's carpet, steel, glulam, nail laminated timber (NLT), and rigid insulation are all manufactured or fabricated in Georgia.
Net Positive Waste Imperative
The Net Positive Waste Imperative aims to reduce the environmental burden associated with the extraction, processing, and disposal of materials during the construction process. Or put another way, this Imperative results in net-negative construction waste by turning what would have been waste into a valuable resource.
To achieve this, project teams must create a materials conservation management plan to reduce or eliminate the production of waste during design, construction, operation, and end of life phases. This aides greatly in conserving natural resources and integrating waste back into either an industrial loop or a natural nutrient loop.
In addition to creating a plan, nearly all waste must be diverted from land-fill during construction at a minimum of:
99 percent of metal,
99 percent of paper and cardboard,
100 percent of soil and biomass,
95 percent rigid foam/carpet and insulation, and
90 percent of all other waste (combined weighted average).
From the beginning of the construction process, the Skanska team compiled a list of expected waste streams from each trade involved in the construction process to target these waste diversion goals. All salvageable material was either incorporated into the project in a new manner or was donated to the local Lifecycle Building Center for their retail salvage operation. For example, approximately 443 tons of asphalt was recycled.
During the construction process, The Kendeda Building team prevented 99.5% of scraps and unused materials from being turned into waste.
| | | | | |
| --- | --- | --- | --- | --- |
| Category |  Diverted (lbs) of Material  |  Total (lbs) of Material  |  Percent Diversion Required  | Actual Percent of Category Diverted |
| Metal |                75,360 |                75,360 | 99% | 100.0% |
| Paper and Cardboard |                39,540 |                39,540 | 99% | 100.0% |
| Soil and Biomass |           6,896,310 |           6,896,310 | 100% | 100.0% |
| Rigid Foam, Carpet, and Insulation |              107,800 |              110,080 | 95% | 97.9% |
| All others - combined weighted average |           2,656,000 |           2,702,280 | 90% | 98.3% |
| Totals |           9,775,010 |           9,823,570 |   | 99.5% |
In addition to recycling and repurposing materials from the construction of the project, Living Building Challenge certified projects must also feature at least one salvaged material per 500 square meters of gross building area. Below are examples of salvaged materials from nearby demolition projects that were incorporated into The Kendeda Building:
Recycled slate used for interior wall finishes sourced from the Alumni Association roof renovation.
The nail laminated timber pieces incorporated 25,000 feet of 2x4 from demolished film sets.
Granite from Georgia Archives Building was used in landscaping the site.
Storm-fallen trees (

black oak, white oak, and water oak) f

rom Georgia Tech's campus were

collected, milled, and dried for "live edge" counters, tables, and benches.

Pieces of wood trimmed from the NLT were used for internal stairs.
1880s heart pine joists removed in 2016 from the iconic Tech Tower were used as stair treads.
After the construction project was complete, Georgia Tech implemented a recycling and compost program for the building that targets maximum waste diversion.
Red List - Product Lists
Complying with the Red List Imperative is one of the most difficult aspects of the Living Building Challenge. The Kendeda Building design team worked for more than two years identifying products that did not contain Red List chemicals. To support other projects, we are happy to share ourproduct list with the following caveats:
There were market constraints and Living Building Challenge exceptions that required us to use products that may not be 100% Red List free.
Due to "proprietary" and "trade secret" claims that are prevalent in the industry, it is possible that despite our best efforts we inadvertently used non-compliant products. 
The design team does not warranty these products in any way. 
Other project teams should conduct their own analyses and due diligence before selecting any products, to ensure they meet specific needs and that they have not been reformulated. 
The Bullitt Center's product list is available here. 
Salvaging Materials on Campus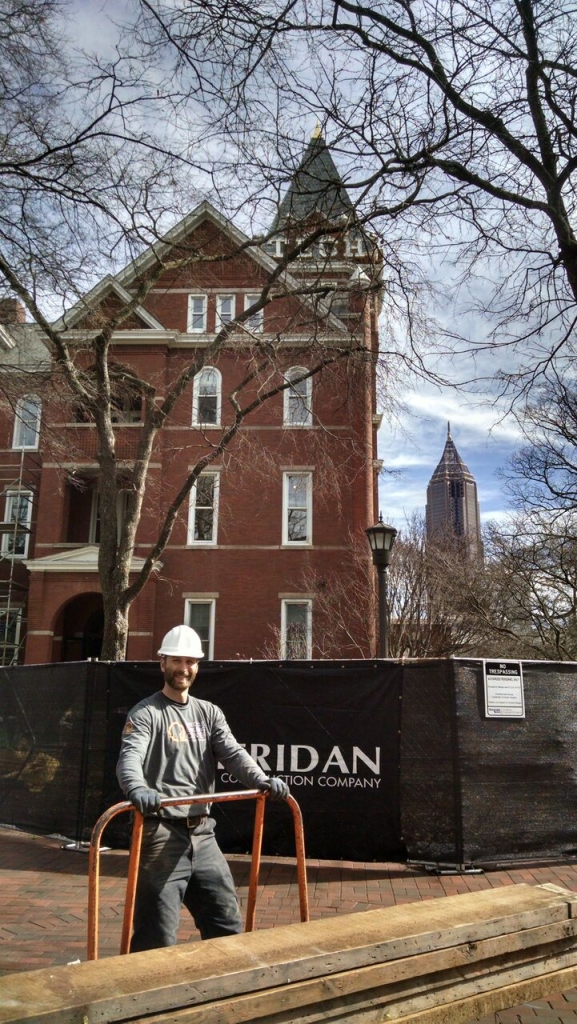 During the 2016 renovation of the iconic Tech Tower, heart pine joists dating back to the 1880s were removed and have been repurposed as stair treads for The Kendeda Building.