In September 2015, the Georgia Tech Institute of Technology received a $30 million commitment from The Kendeda Fund to build what the partners expected to become the most environmentally advanced classroom and teaching lab building ever constructed in the Southeast.
The partners had two shared goals:
Lead by example through demonstrating that a building can foster regenerative systems in a mixed climate with cold winter and hot, humid summers.
 
Amplify impact by inspiring change on the Georgia Tech campus, across the Southeast building industry, and the world. 
The Kendeda Building for Innovative Sustainable Design is the result of this bold vision. We accomplished the first goal in March 2021 when The Kendeda Building received Living Building Challenge (LBC) certification, the world's most ambitious and holistic green building achievement. The Kendeda Building is the first Living Building in Georgia and the 28th in the world!
The Living Building Challenge is a rigorous, performance-based standard that aligns with Georgia Tech's longstanding vision for the campus. Fully certified projects must meet all of the objectives contained in seven performance areas or "Petals" that are divided into 20 requirements called "Imperatives." Moreover, the project must prove that it is net-positive water and energy over a minimum of 12 months of continuous occupancy and operations. The Kendeda Building provides a unique opportunity to physically demonstrate how Georgia Tech practices thoughtful stewardship of all of its resources and how its innovative thinking can transform future generations. 
---
Donor: The Kendeda Fund
Gift Amount: $25 million funded 100 percent of the design and construction costs and $5 million gifted to support programming activities ($4 million of which was contingent on LBC certification)
Primary Certification: Living Building Challenge 3.1 
Location: Northwest corner of Ferst Drive and State Street on Georgia Tech's Atlanta campus
---
Design team selection – 2016 
Construction begins – February 2018 
Substantial completion and soft launch – fall 2019
Full occupancy (classes began) – January 2020
LBC performance period – Dec. 1, 2019 to Nov. 30, 2020
LBC Certification – March 2021
---
Project Partners:
Architects: Lord Aeck Sargent and The Miller Hull Partnership
Builder: Skanska USA
Contributing teams: Andropogon (landscape), PAE (mechanical, electrical, and plumbing engineering), Newcomb & Boyd (mechanical, electrical, and plumbing), Biohabitats (greywater systems), Long Engineering (civil engineering), Uzun & Case (structural engineering), Epsten Group (commissioning)
---
Site and Building Size:
Site is 58,800 square feet (1.35 acres). Building's footprint on the site is 18,600 sq. ft. (first floor gross sq. ft. of enclosed space only).
Approximately 47,000 sq. ft. of programmable space of which nearly 37,000 sq. ft. is enclosed and conditioned space.
Public outdoor learning space includes the 3,600 sq. ft. outdoor porch area and a 1,000 sq. ft. accessible roof deck. The 4,300 sq. ft. rooftop garden, while not open to the public, contains the honey bee apiary, pollinator garden, and blueberry orchard. The remaining space is for loading and bike storage.
---
Primary Use of the Building: Non-departmental education, research, and outreach opportunities. The "non-departmental" is extremely important because Georgia Tech wants the full breadth of its undergraduate students to have at least one class in the building so each of them can be inspired to help create a regenerative future.
The building features two 64-person classrooms, two 24-person class labs, two 16-person class labs, a 16-person seminar room, a 24-person makerspace, 176-person auditorium, rooftop apiary and pollinator garden, and an office space for co-located programs. The building hosts the building Director and staff, other Office of Sustainability staff, and has flexible seating space for instructors and researchers performing research in the building.
---
Cost Details:
$25,000,000 total project budget includes all hard and soft costs:

Design fees and construction costs
Fixtures, furniture, and equipment (FF&E)
Audio visual technology and information technology infrastructure

Total project cost per square foot:

Inside the building envelope: $676
Total project area indoor and outdoor: $532

$20,301,000 construction cost; cost per square foot:

Inside the building envelope: $549
Total project area indoor and outdoor: $432
At approximately $532 per gross square foot of total project area*, The Kendeda Building is about 15% more expensive than a comparable Georgia Tech building. However, in reality, there are few comparable buildings of this style that include the infrastructure for net positive energy and water in upfront construction cost. In other words, unlike conventional buildings that treat utility costs as operating expenses, The Kendeda Building pre-purchased 30 years of electricity, has the ability to convert rainwater to drinking water, and treats sewage onsite.
* Because the LBC applies to the entire project site and not just the building, a fair comparison is The Kendeda Building's total project area with a comparable Georgia Tech Building.
---
Net Positive Water:
Basement Cistern Capacity: 50,000-gallons of rainwater
Toilets and Urinals: 12 foam flush toilets and 4 waterless urinals combined use less water than one typical low-flow toilet
Greywater: treated in the building's constructed wetland.
Bioliquids and Biosolids: treated in the building's composting toilet system.
Water Collected and Infiltrated into the Ground: approximately 15 times the amount needed for operations
NOTE: when the rainwater-to-drinking water system receives all required permits, the building will only use rainwater for all potable water needs
---
Net Positive Energy (12-Month Performance Period):
Solar Array: 330 kW (DC), approximately 917 SunPower solar panels generate approximately 440,000 kWh annually.
Actual Energy Use Intensity (EUI): approximately 18 kBTU/SF/YR before factoring onsite solar, which makes the building 80% more efficient than a comparable new, conventionally built higher education building in Atlanta. 
Renewable Energy: Photovoltaic system supplies over 200% of building's annual energy needs, far exceeding the 105% LBC requirement.
NOTE: while the building has a small battery for emergency back-up, the building pulls from the electricity grid when needed and sends excess during periods of overproduction.
---
Zero Carbon Construction: Project construction achieved zero carbon footprint by first incorporating low-carbon and salvaged building materials, then by recycling over 99% of construction waste, and finally by purchasing a one-time carbon offset that funded new solar projects in India, which is highly reliant on coal for electricity.
Inspiring Facts
The Kendeda Building site, which was formerly a parking lot, acts like a forest with 90% or more of an average rainfall managed onsite.
A composting toilet system converts solids and liquids into fertilizer onsite. The system does not connect to the sewer.

Greywater, i.e., water that does not contain organic matter, is collected from shower drains, sink drains, and water fountains and pumped to a constructed wetland at the main entrance of the building. There, natural processes involving vegetation, soils, and their associated microbes improve water quality. Instead of going down the drain and into the sewer, the treated greywater infiltrates back into the soil to recharge the surrounding groundwater.

Project kept economic benefits close to home by sourcing at least 50% of products and services from within 621 miles (i.e., 1,000 km).
Construction of the building diverted more waste from the landfill than sent to the landfill through the use of salvaged materials.  
Project preserved Georgia Tech's heritage by converting original heart pine joists used in the construction of the iconic Tech Tower into treads for the Kendeda Building's monumental staircase. Use of salvaged wood from Tech Tower saved $60,000 as compared to using new materials.
Lumber from storm-felled trees on Georgia Tech's campus was kiln-dried, milled, and planed to make the building's counters and benches outside the building.
Portion of the floor deck incorporated 25,000 linear feet of dismantled movie sets, and was constructed by participants of a workforce development program for economically disadvantaged Atlanta residents.
The building is composed of materials screened for hazardous chemicals known to harm human and environmental health, even though they are common in most buildings.
Every regularly occupied space has access to daylight.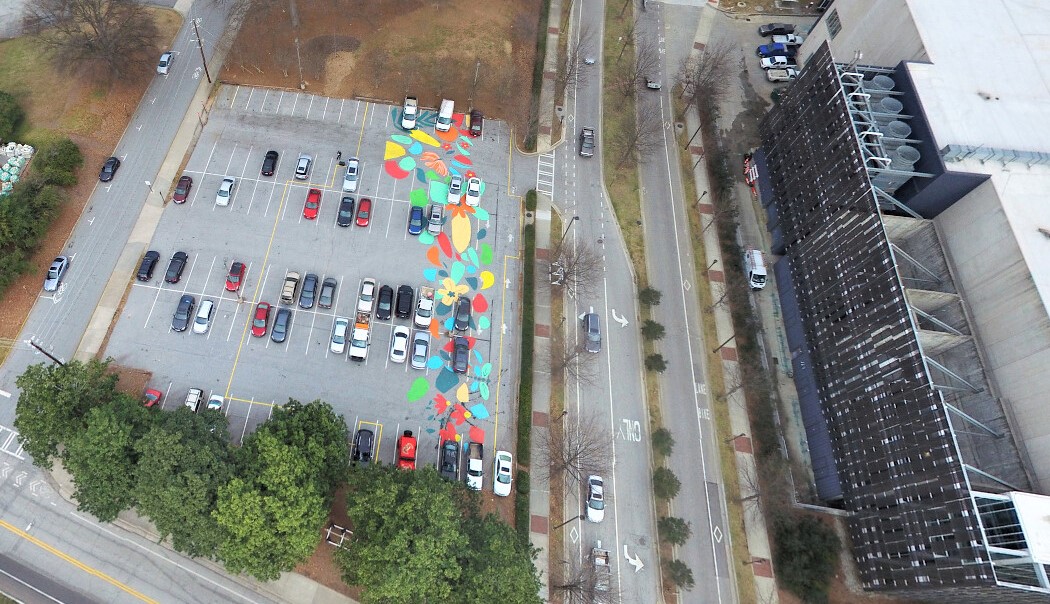 Aerial of Site Feb 12, 2018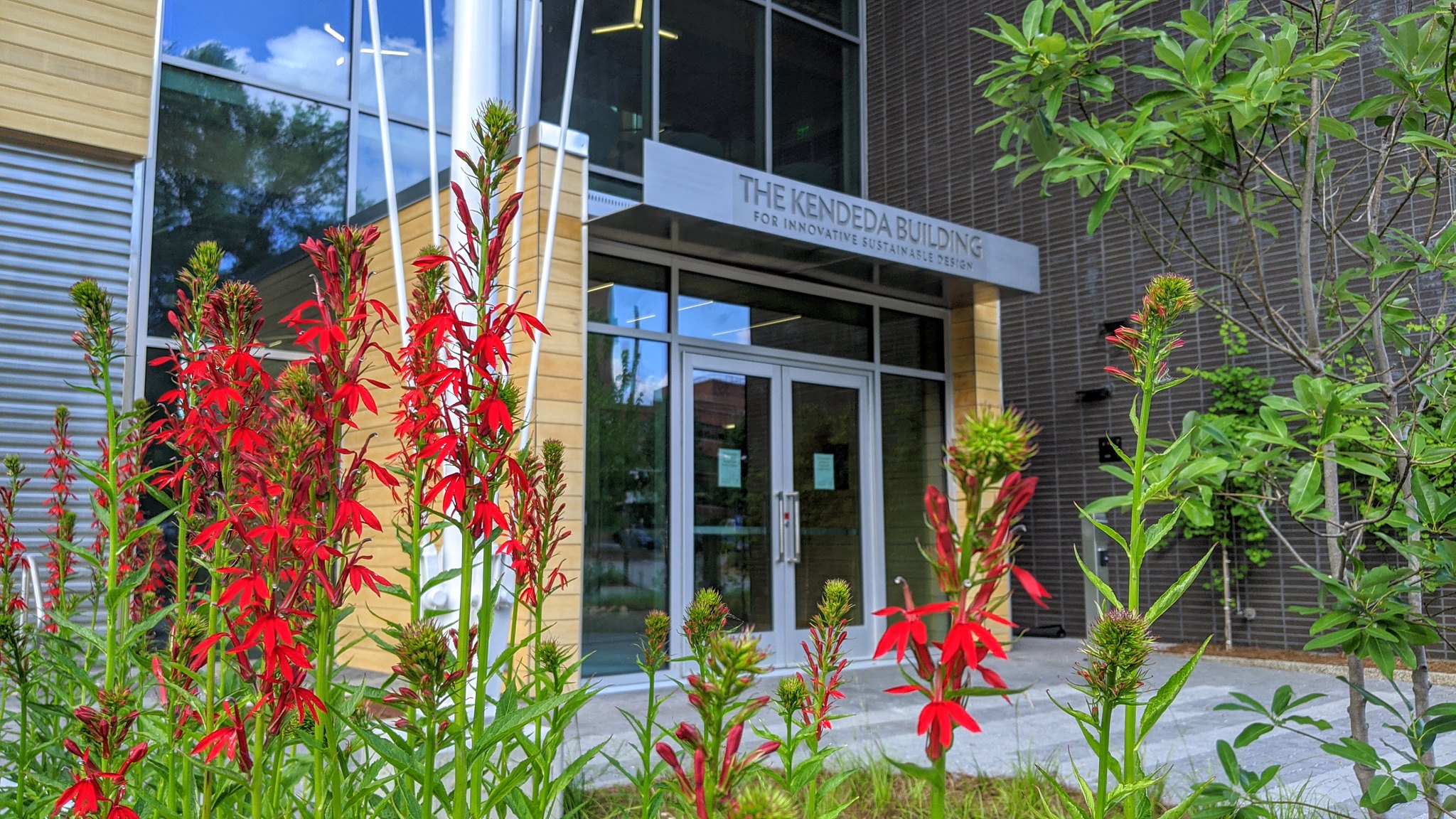 Constructed wetland treats greywater.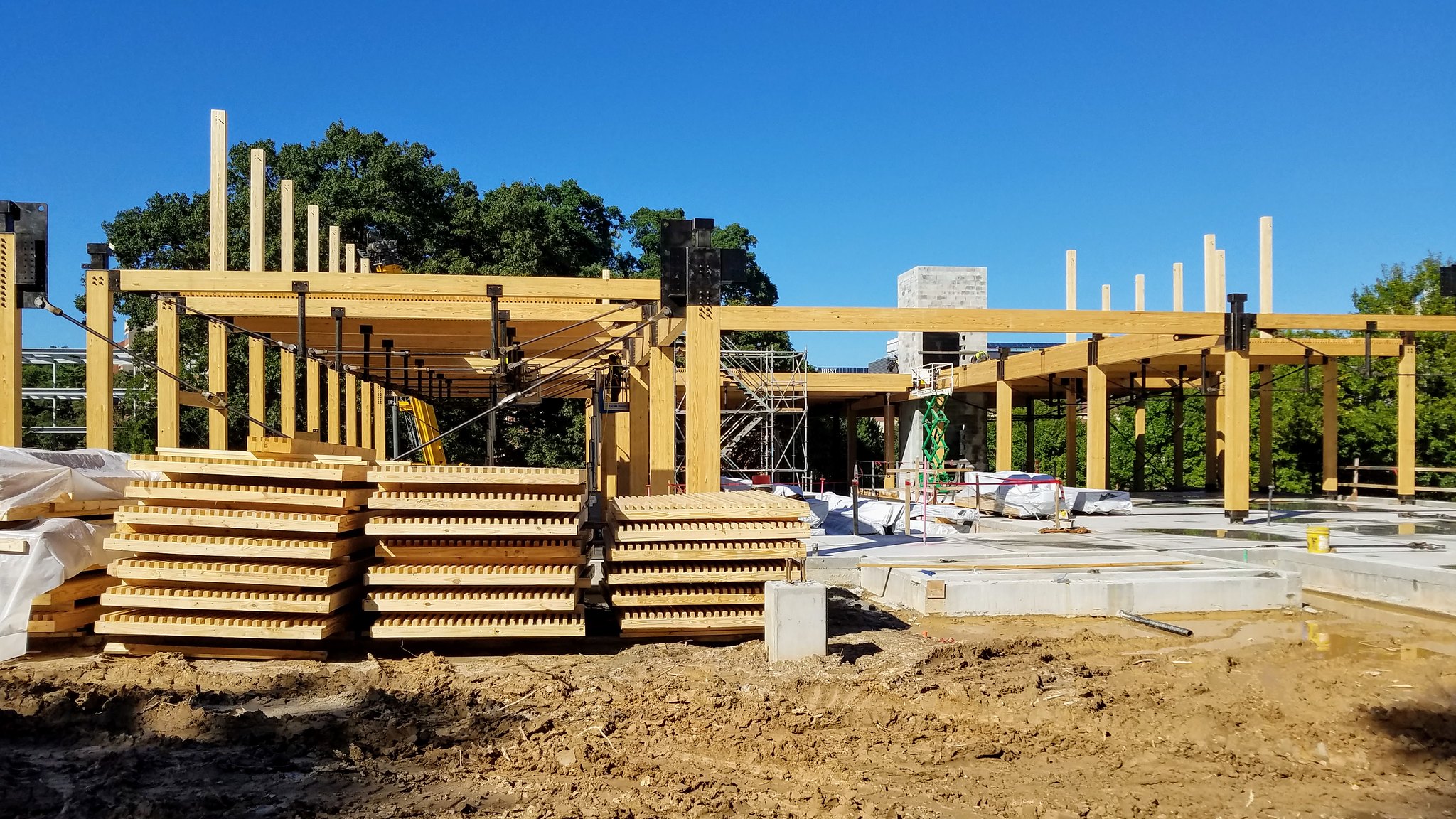 The building is constructed using wooden beams in lieu of more energy intensive steal and concrete, which dramatically reduced the building's carbon footprint.
It Takes a Village to Raise a Living Building
This building was, and continues to be a labor of love. Hundreds of people were involved with turning a vision into reality. Visit our photo album to see team members throughout the journey.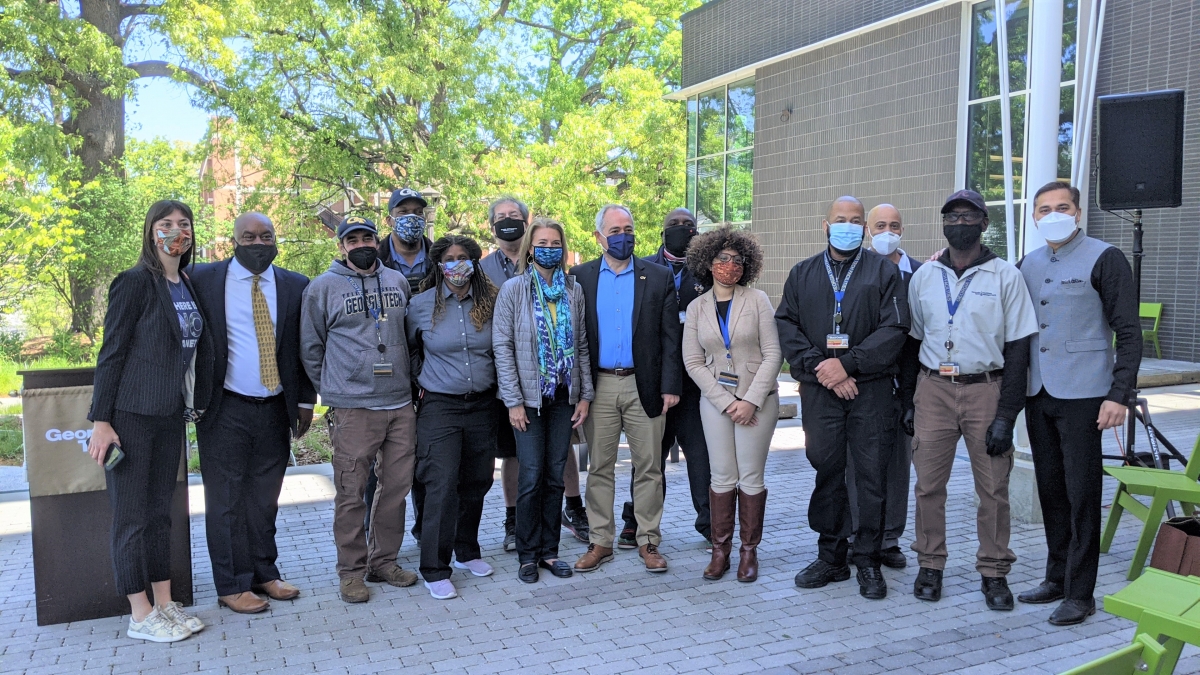 On April 22, 2021 The Kendeda Building was officially designated as the first Living Building in Georgia and one of only 28 in the world. President Ángel Cabrera and Doctor Beth Cabrera with some of the Georgia Tech team members who helped make the historic certification a reality!
Shan Arora - Director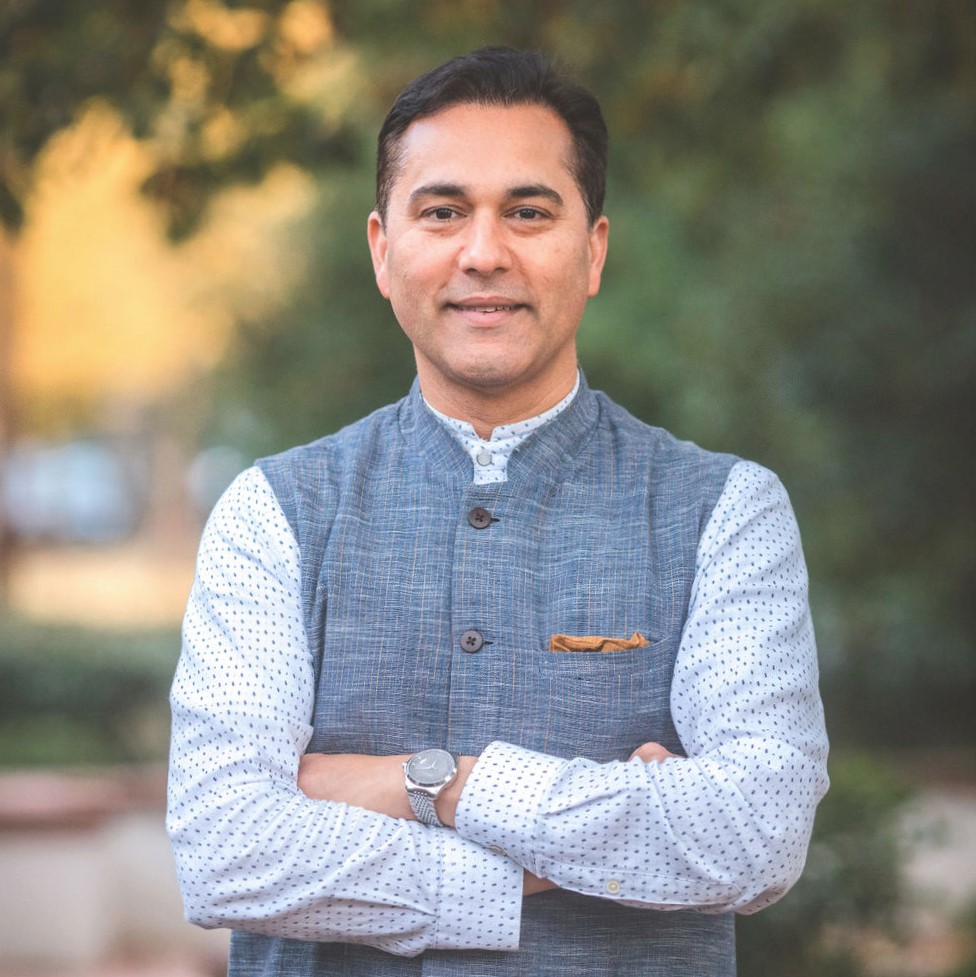 Shan engages local, national, and international governments and organizations to help them go beyond sustainability and towards regeneration. This paradigm shift results in the design, construction, and operation of built environments that are net-positive with resources such as energy and water, and that promote the wellness of people. Shan serves on the Board of Directors for Georgia Interfaith Power & Light. He received his B.A. in History and J.D. from Emory.
Kamilah Roberts - Program & Operations Manager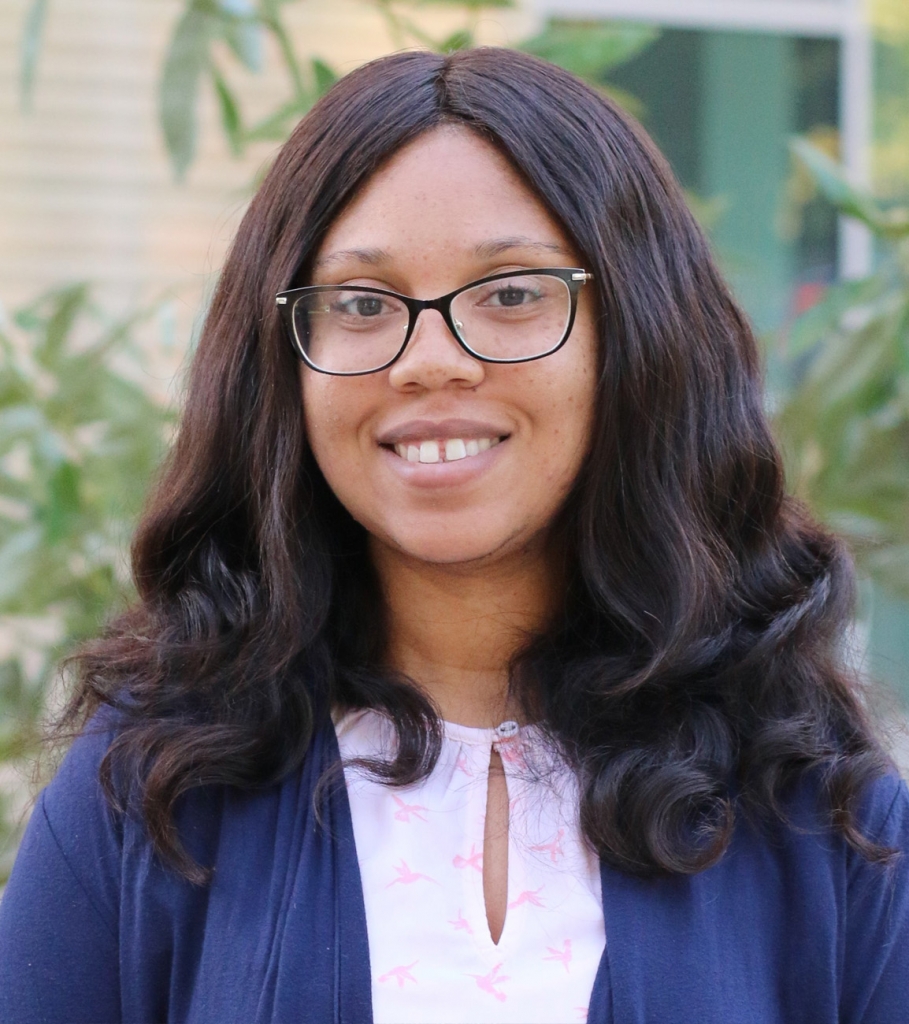 Kamilah supports engagement work, communications, and the implementation of new programs. Kamilah graduated from the University of Georgia where she majored in advertising and earned her A.B.J. degree.
Brooke Vacovsky - Senior Facilities Manager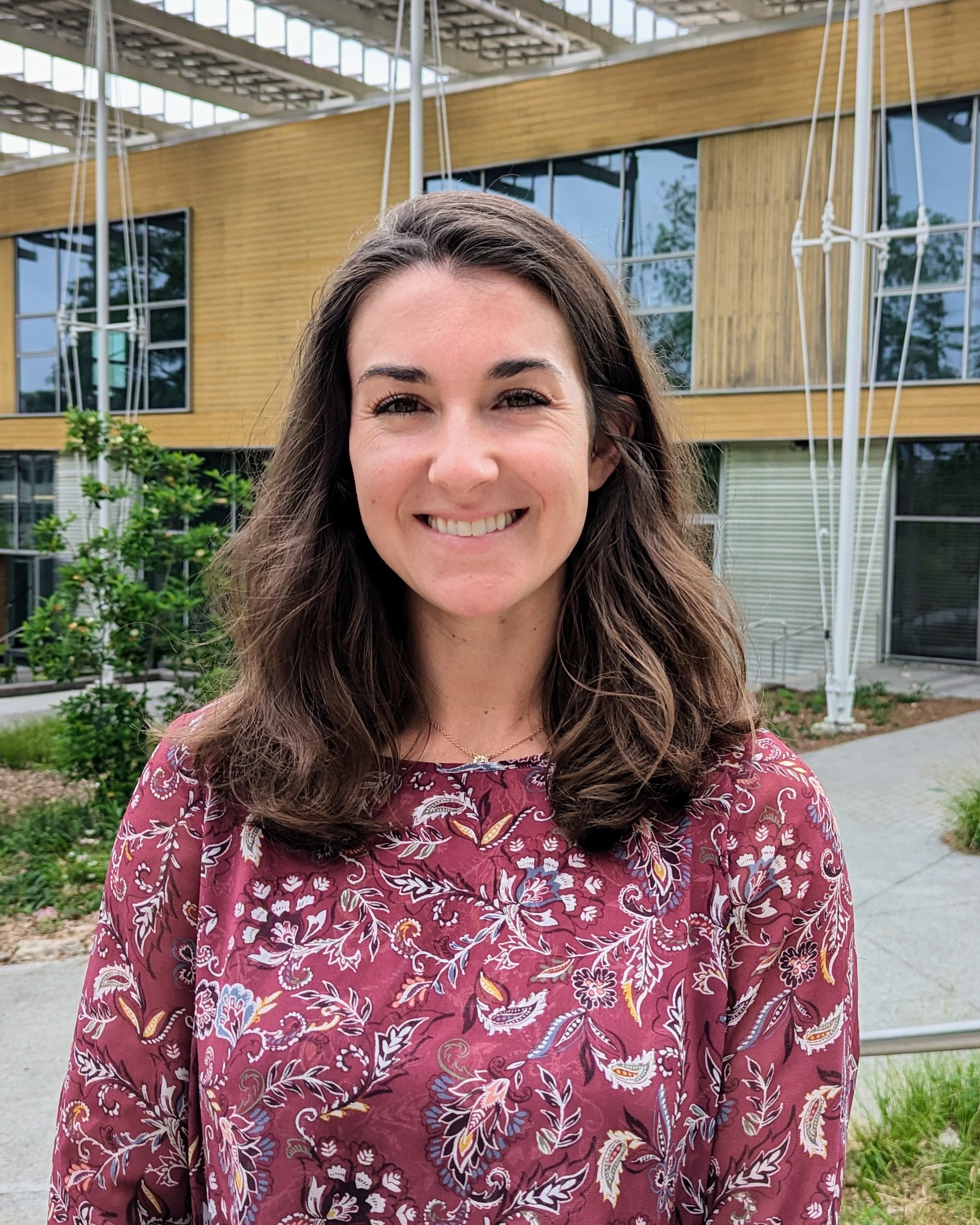 Brooke began her sustainability journey as a student, volunteer urban farmer, and a beekeeper at Georgia Tech. After graduation, she was hired at the Blue Heron Nature Preserve as a Project and Operations Manager and learned about building systems and how to manage a building through the lens of sustainability.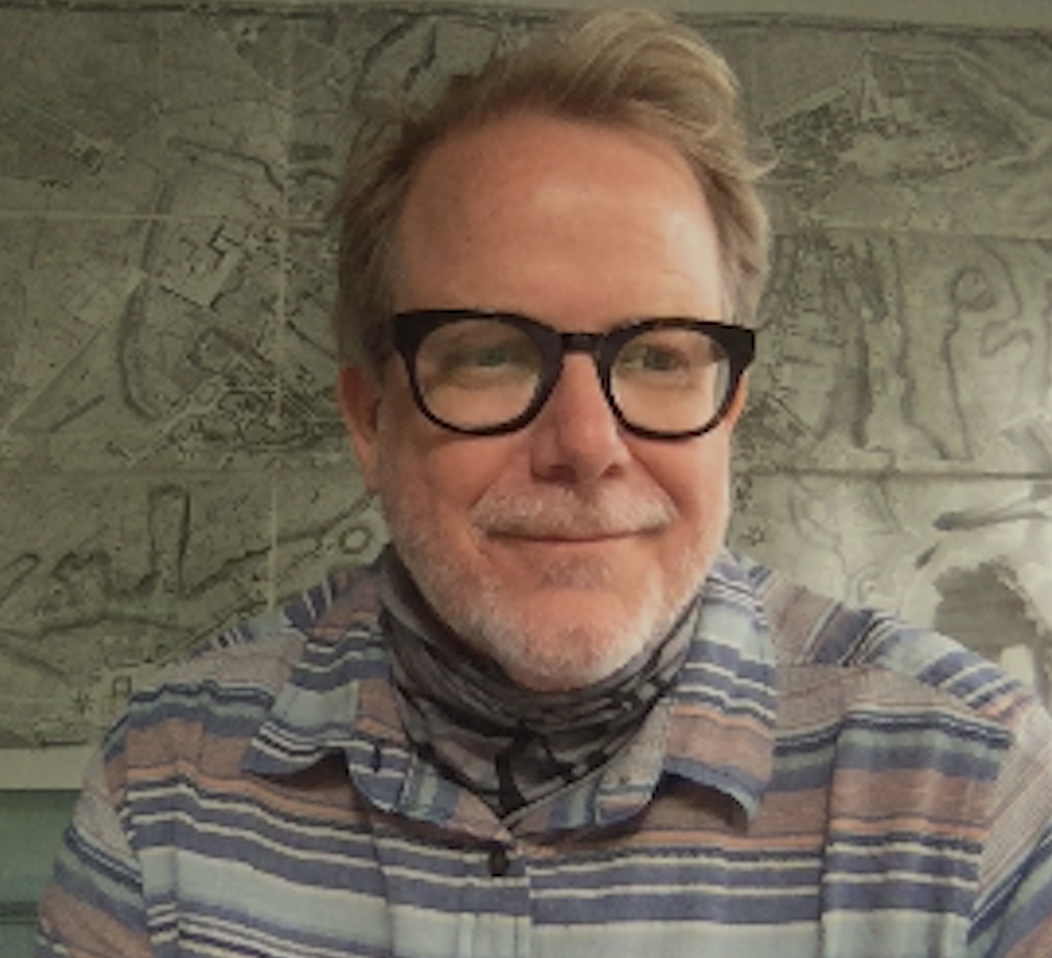 Michael Gamble - Academic Liaison
Michael's love of design at all scales is evident in his teaching, research, service, and practice. He was one of the first points of contact for idea that became The Kendeda Building. He actively leads its academic and research efforts, focusing on the development and implementation of convergent and interdisciplinary curricula between engineering, biology, and design. In 2023 he launched the book "Climate Change and the Design of the Built Environment" with Kendall Hunt, publisher.
Michael is a registered architect, director of the Modern Cities Europe Program, and creative director at Gamble + Gamble Architects in Atlanta. From 2015 to 2022, he directed the Master of Architecture program in the School of Architecture.
His design-driven research operates at a variety of scales, from house to city, with emphasis on the creation of healthy, well-conceived environments. He has received numerous awards for excellence in design and scholarship.