Support a just, equitable world
"The intent of the Equity Petal is to transform developments to foster a true, inclusive sense of community that is just and equitable regardless of an individual's background, age, class, race, gender or sexual orientation." International Living Future Institute
Though we often hear people-planet-profit referenced as a three-tier approach to sustainability, people - and equity among them - often take a backseat to the other "p's." The Equity Petal recognizes that a truly sustainable program must bring everyone into its fold by providing a welcoming, accessible, nature-based environment. While many of the practices described in the Imperatives of the Equity Petal focus on building design, Georgia Tech extended equitable practices into operation by taking specific steps to create a welcoming environment, incorporate equity into the curriculum, and track equity through metrics.
The Equity Petal has four requirements, called Imperatives: Human Scale and Humane Places, Universal Access to Nature and Place, Equitable Investment, and JUST Organizations.
Human Scale and Humane Places: Promoting Interaction Through Design
The intent of the Human Scale and Humane Places imperative is to use design standards to create buildings that encourage interaction and discourage driving single-occupancy vehicles. Many of our buildings are built like fortresses – one drives their car there, goes directly into the building, and can no longer see much of the surrounding world or feel a connection to the community outside. This Imperative focuses on increasing those outside connections: reducing surface parking and large signage and increasing the number of windows and spaces dedicated to gathering, community, and beauty.
Calculations for these requirements are based upon the project's transect category, which is selected based on the density of development surrounding the site. L1 is the lowest density (mainly rural areas), while L6 is the highest density (for example, Times Square). The Kendeda Building for Innovative Sustainable Design is in an L3 (village or campus zone) transect. The chart below shows required calculations for each transect and associated requirement. While exceptions can be made based on zoning requirements and other special cases, Georgia Tech has not applied for any exceptions.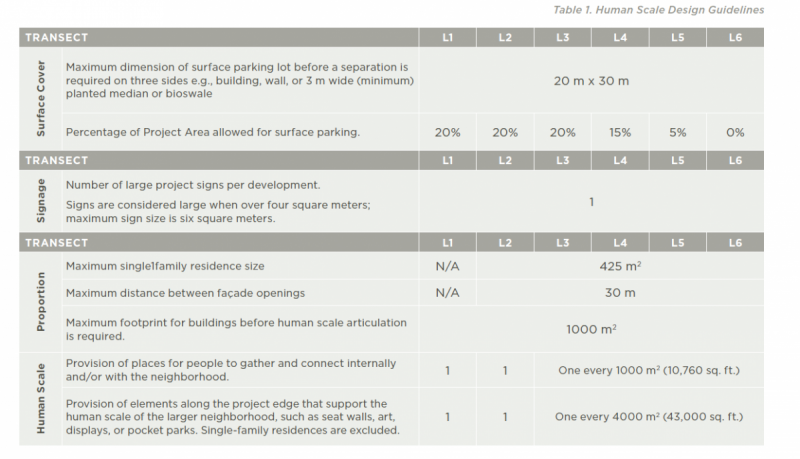 Human Scale Design Guidelines for the Human Scale and Humane Places Imperative (International Living Future Institute)
Universal Access to Nature and Place: Sharing Resources and Increasing Accessibility
Living Buildings should create areas that are accessible to all and that do not block anyone's access to fresh air, water, or sunlight. To meet this goal, the Universal Access imperative requires that all non-building infrastructure and externally focused roads and transportation be accessible to all members of the public. For access to fresh air, the project must "protect adjacent properties from any noxious emissions." To protect access to waterways, the project "may not restrict access to the edge of any natural waterway" or "assume ownership of water contained in these bodies." Finally, to protect access to sunlight, the project "may not block sunlight to adjacent building facades and rooftops above a maximum height allotted for the transect."
Projects in transects L3 through L6 (The Kendeda Building is L3) must also ensure that public areas invite interest by installing public art, street furniture, gardens, or other gathering areas. All projects must meet design guidelines of the Americans with Disabilities Act (ADA) and the Architectural Barriers Act (ABA) Accessibility Guidelines to ensure access for people with physical disabilities.
Because Living Buildings are meant to be welcoming places for all, this Imperative also requires gender-inclusive restrooms so that all community members have easily accessible facilities.
Understanding that the activities that take in place in the building are equally important to creating an inclusive environment, Georgia Tech has also invited and encouraged a variety of internal and external organizations to have discussions or other events in the building that focus on diversity and inclusion.
Equitable Investment: Giving Back
Recognizing that Living Buildings are a place for community, the Equitable Investment Imperative requires that the project give back to the community in proportion with the project cost. For every dollar of total project cost, the project must donate half a cent to the charity of its choosing or contribute to the International Living Future Institute (ILFI) Living Equity Exchange Program. The project cost does not include the cost of land but does include all hard and soft costs and systems furniture.
As a 100% donor-funded project, The Kendeda Building is itself considered a donation and is therefore exempt from this requirement. However, the team at Georgia Tech has many plans to give back to the community through programming and partnerships. An example is the partnership our construction management firm Skanska forged with Georgia Works! a local organization that trains formerly homeless individuals in construction trades and helps place them at job sites. Six Georgia Works! graduates helped build The Kendeda Building gaining skills that they applied in subsequent projects. For example, Skanska hired one of the individuals to work on a subsequent project.
JUST Organizations: Evaluating the Equity of Business Practices
According to ILFI, the JUST label is much like a nutrition label for business practices; it is a transparent disclosure of how organizations rate on a scale for 22 categories under the topics of Diversity, Equity, Safety, Worker Benefit, and Stewardship. For Living Buildings, at least one of the following must have a JUST label: the Architect of Record, the Mechanical, Electrical, and Plumbing Engineer of Record, the Structural Engineer of Record, the Landscape Architect of Record, the Interior Architect of Record, and/or the Owner/Developer. On The Kendeda Building team, architects The Miller Hull Partnership and Lord Aeck Sargent have JUST labels.
VIP: Building for Equity and Sustainability
This Vertically Integrated Project (VIP) undergraduate research team, affiliated with and co-led by Serve-Learn-Sustain (SLS), focuses on advancing social equity and community engagement in The Kendeda Building, the EcoCommons, and beyond. The team also collaborates with the NAACP and The International Living Future Institute to deepen equity as a core component of the sustainable building sector overall. Visit their VIP team page to learn more, and check out the Equity Zine – published by one of the VIP's student research groups in 2021.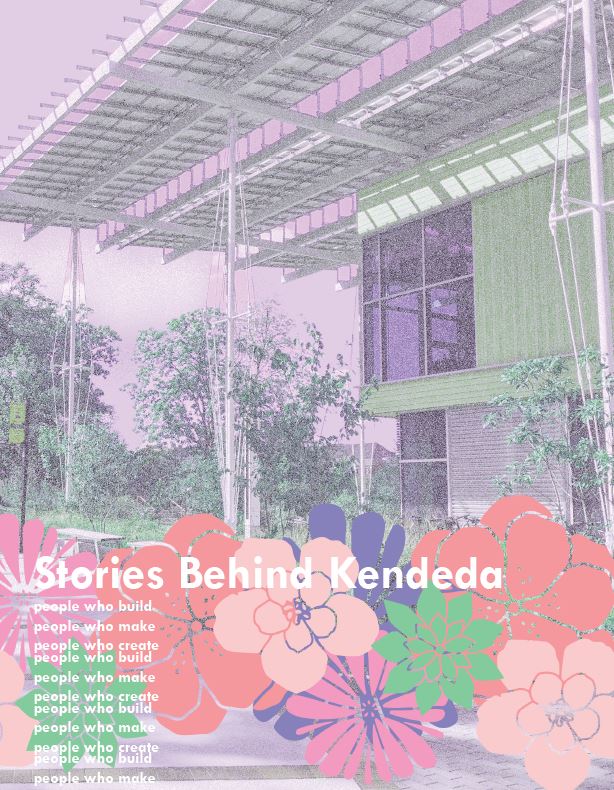 ADA Accessibility at Georgia Tech
The conversations about accessibility at The Kendeda Building are part of a continuum of these discussions at Georgia Tech. In 2016 Georgia Tech released an Americans with Disabilities Act (ADA) Accessibility Transition Plan with the goal of fostering "a long-term vision that aligns with Georgia Tech's larger missions, strategic plan, sustainability objectives and key initiatives to create a physically and socially unified landscape." Learn more at: http://space.gatech.edu/ada-accessibility-georgia-tech