NOTE: Hover over yellow hot spot to see callout.
November 2 marked the beginning of the construction phase of The Kendeda Building for Innovative Sustainable Design. Formerly referred to as the Living Building at Georgia Tech, the project is on track to become the first Living Building Challenge 3.1-certified facility of its size and function in the Southeast.
The building launch took place at the northwest corner of Ferst Drive and State Street and featured representatives from Georgia Tech and The Kendeda Fund, the project's philanthropic donor. Play video.
Auditorium
The educational opportunities are not limited to the classrooms and makerspace. As part of its mission to serve as a public forum for educational activities, The Kendeda Building for Innovative Sustainable Design also features an auditorium that will seat 170 persons.
As with other programmable areas in The Kendeda Building, the auditorium will support flexible use of space. The structural system will consist of mixture of wood, concrete and steel. Wood is a preferred material due to its aesthetics, low carbon footprint, and regional availability — all of which are important variables to Living Building Challenge certification. While steel and concrete won't be eliminated entirely, these materials will only be used strategically where needed for structural support.
The design team has also taken great strides to incorporate salvaged materials (including granite, slate, and wood) from recent construction projects on campus.
Offices
Offices on the first floor support the academic and research activities conducted in The Kendeda Building for Innovative Sustainable Design. In addition to a building manager and administrative support, the building will also house the faculty teaching in the building during the semester. Courses taught in the Living Building will be alternated throughout the academic year to maximize exposure to the student community. As temporary occupants of the building, faculty will reserve their office space on an as needed-bases. This "hoteling" concept has become popular in the past two decades as a means to accommodate the ever-increasingly dynamic and mobile workforce.
The office space configuration will incorporate an open floor plan to support flexible use of space. As with the lobby and outdoor programmable area, seating will consist of a mix of fixed and movable furniture to enable the occupants to maximize the use of space.
Makerspace
Makerspaces are becoming increasingly popular on Georgia Tech's campus as students receive hands-on experiential learning opportunities to build and test the concepts they have designed in the classroom. Notably, Georgia Tech's student-run Invention Studio dates back to 2009 when a group of Capstone Design students gathered to run a facility and provide prototyping instruction to other students in exchange for 24-hour access to the facility. Today, this 4,500 square foot makerspace is open to students, faculty and staff across campus and houses more than $1 million in tools and equipment.
To accommodate the demand, other makerspace concepts are springing up on campus. The Daniel Guggenheim School of Aerospace Engineering (AE) Aero Maker Space opened in late 2016 and houses laser-cutters and 3D printers for AE students.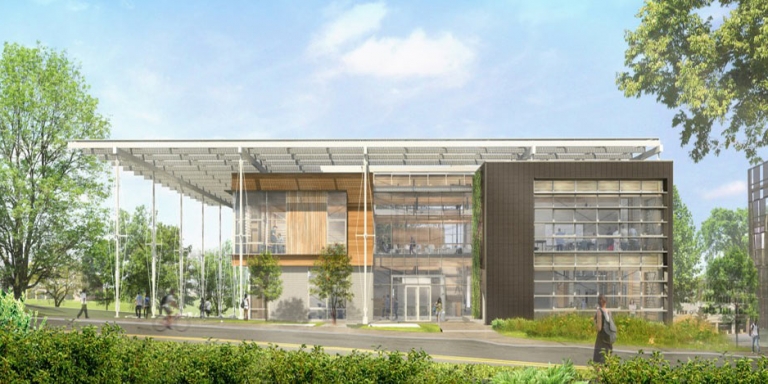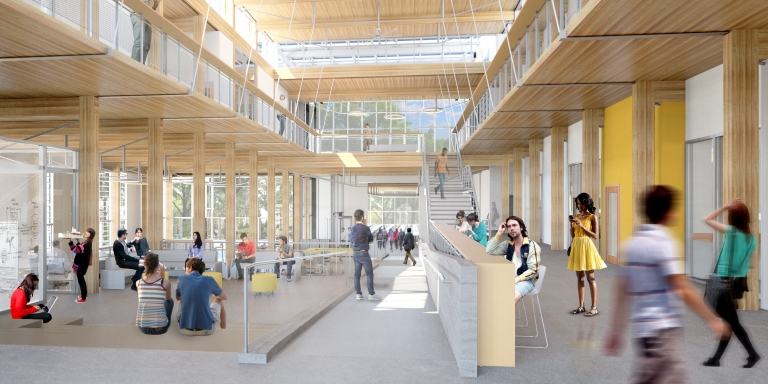 Class Labs
Much like the classrooms, the 24-person class labs are designed to foster active learning by using The Kendeda Building for Innovative Sustainable Design as a teaching tool. Due to the requirement for the building to be net-positive energy, power operated equipment will be very limited. Proposed programs are being developed to support the goals and learning outcomes of the Living Building Challenge.
The class labs will be located on the first and second floors and can be accessed via the central collaborative commons space.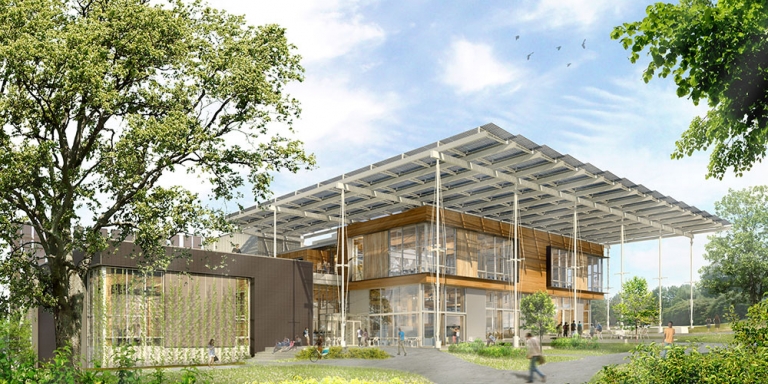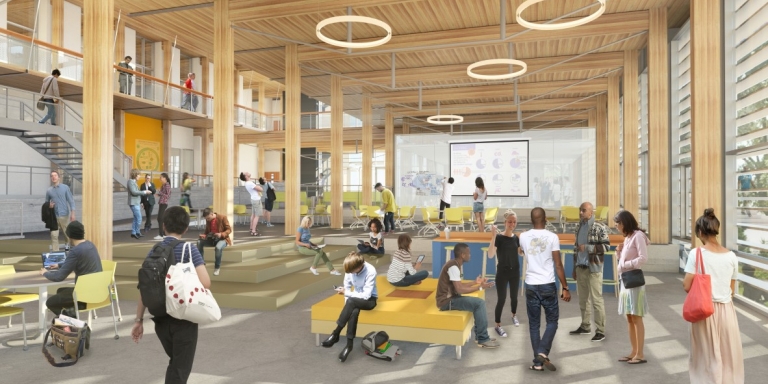 Classrooms
Designed to function as a true living, learning laboratory, The Kendeda Building for Innovative Sustainable Design will help educate and transform future generations of thinkers and doers to not only create a more sustainable environment, but one that actually gives back and improves the environment. The Kendeda Building will feature two 75-person classrooms to provide hands-on educational and learning opportunities. Classrooms will be located on the second floor and can be accessed via the centrally located collaborative commons space. ­­­­­
As of fall 2017, several multidisciplinary curriculum proposals from across campus are being evaluated. Many of these classes will also leverage the instructional laboratories and makerspace located in The Kendeda Building. The flexible, open space will enable students and faculty to engage in problem based learning exercises that will explore and teach the principles of sustainability.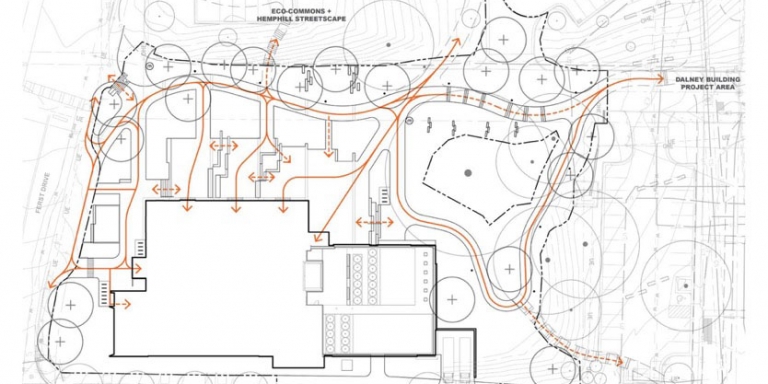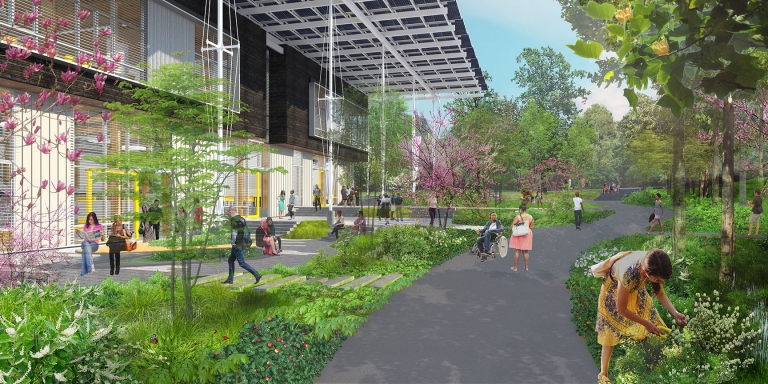 Porch
No southern dwelling would be complete without its porch, and The Kendeda Building for Sustainable Design is no exception. Shaded by the PV canopy above, the porch of the building bridges the physical building to the surrounding landscape – eventually connecting and integrating with the proposed campus eco-commons.
The porch also serves as a point of entry to the building, accessible by all through several entry points.
The porch houses several functional systems designed specifically to assist in the management of stormwater. Following the natural moderate slope from north to south, the porch terraces, or steps down, at appropriate elevations. This geometry accommodates cascading porch areas that support substantial volume storage underneath the permeable pavers. Unlike a traditional stormwater management approach that concentrates water storage in a single area, this method of managing rainwater relies upon dispersed locations along the sloped site in order to leverage gravity to assist in controlling the flow of water.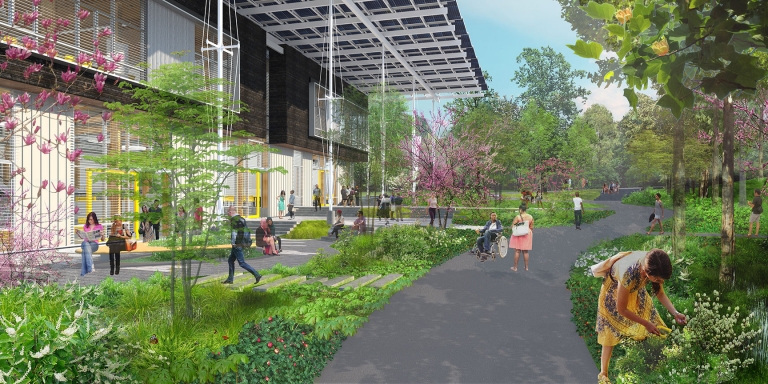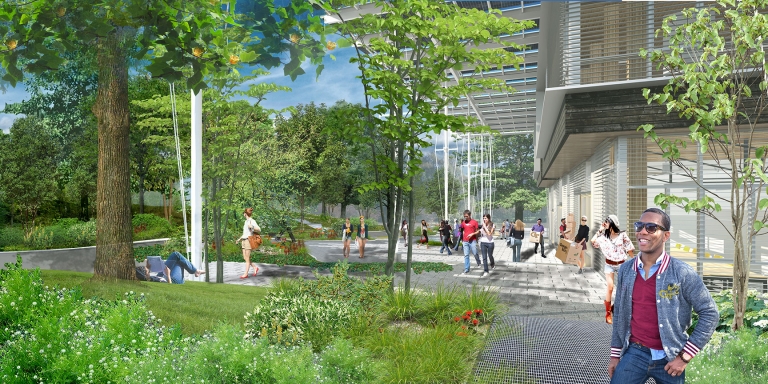 Edible Landscape
The landscape surrounding The Kendeda Building for Innovative Sustainable Design must navigate competing performance demands for rain water management, passive building cooling, tree protection, healthy ecology, and urban agriculture, while providing adequate space for human occupancy and year-round seasonal character.
Given The Kendeda Building's anticipated building density or floor-to-area-ratio (FAR), 20 percent of the project area, or approximately 12,600 square feet, will be dedicated to fostering a healthy, accessible food system.
The bulk of the urban agriculture area requirement will be met with a 5,350 square foot shade-to-partial shade edible ground landscape. Trees, shrubs, and groundcovers that produce edibles, accompanied by informative signage, will encourage students, staff, and visitors to pick and eat tree fruit and berries year-round. This landscape will also work seamlessly with the landscape's adjacent, proposed mesic woodland and seepage wetland zones to manage stormwater runoff from the site's pavement. Additionally, this type of production requires far less sunlight and maintenance than intensive agriculture and can thrive within a sloped, shaded landscape.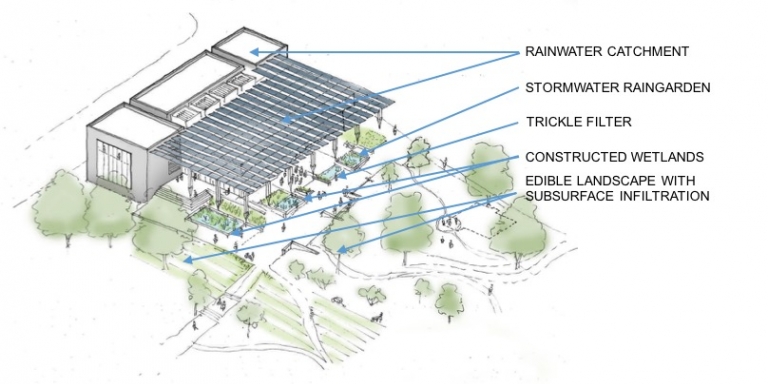 Rainwater and Greywater Treatment Equipment
Achieving net positive water is one of the major imperatives of Living Building Challenge 3.1 certification. The Kendeda Building for Innovative Sustainable Design will collect­ – and appropriately treat – the water that it collects on site in order to provide the water needed for irrigation, potable water (i.e. safe to drink), and the small amount of water needed for the composting toilettes.
To achieve net positive water, the following strategies are planned to collect and recycle both rainwater and greywater (waste water from sinks and showers) on site.
Harvest and treat rooftop rainwater to supply all potable demands for the building.
Rainwater from approximately 18,000 SF of rooftop will be filtered and disinfected. A 45,000+ gallon cistern stores water to overcome drought and provide water resiliency.
The cistern system harvests approximately 41% of the annual rooftop runoff; the balance is managed on site.
Manage waste water on site by using a greywater treatment system and composting toilets.
Greywater and condensate will be used to supply the majority of irrigation demand on the site. Any makeup needed can be drawn from the cistern provided that water is available.
Finished compost and compost tea (leachate) will be periodically removed and used onsite, on campus, or in a regional facility that produces beneficial byproducts (compost, fertilizer).
Provide onsite filtration of stormwater.
Overflows from the rainwater and condensate systems will join stormwater management systems on the site.
Approximately 59% of the annual rooftop runoff will overflow from the cistern to onsite stormwater systems.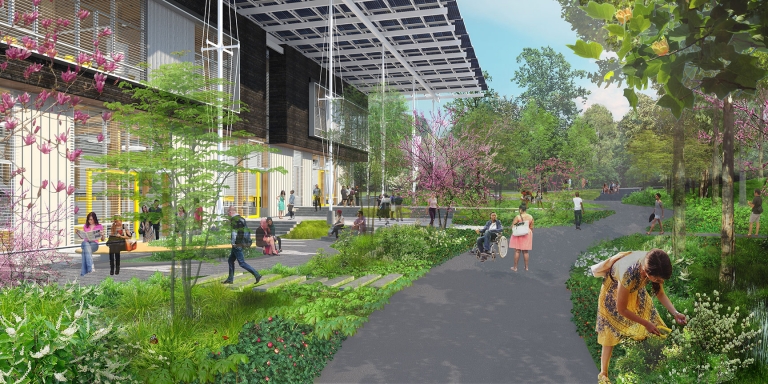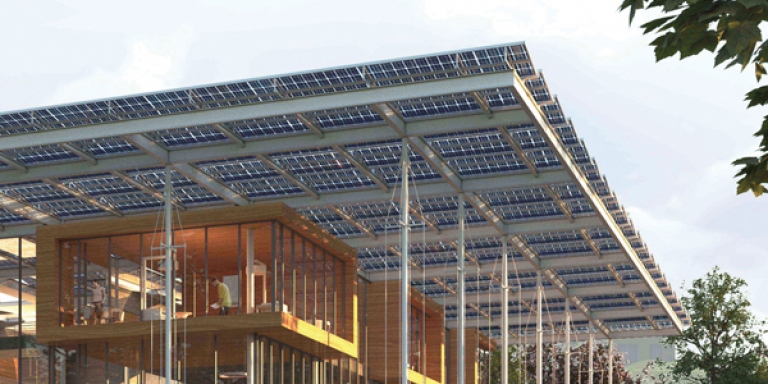 Rainwater Cistern
The Kendeda Building for Innovative Sustainable Design must collect more water than it consumes on an annual basis to function as a net positive water facility – one of the many requirements to achieve Living Building Challenge 3.1 certification. Due to the humid and rainy conditions in the Southeast (Atlanta receives a level of rainfall every year that is on par with Seattle), the building is expected to harvest 460,000 gallons of water a year. To hold all this water, the building will house a 45,000-gallon cistern in the basement of the building.
Like all living things, the cistern will need to replenish itself and will do so by collecting rainwater from the roof. Overflow for the system is designed to work with the natural slope of the topography to most effectively manage the volume and rate of water flowing throughout the site. These systems include a stormwater raingarden and trickle filter under the porch plaza as well as a series of constructed wetlands and edible landscape areas with subsurface infiltration. In addition, there will be rainwater catchments on the roof of the building to collect stormwater before it reaches the ground.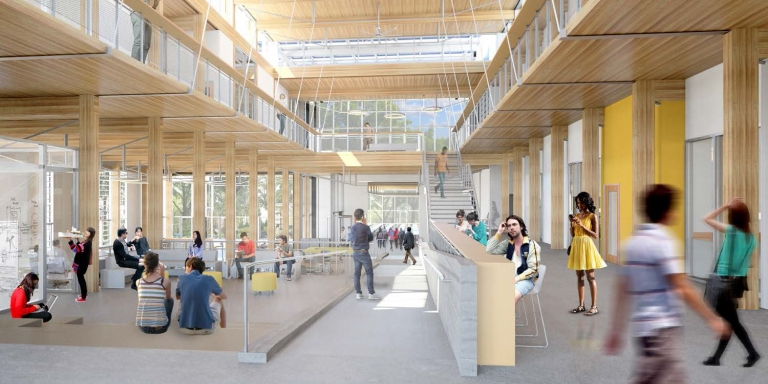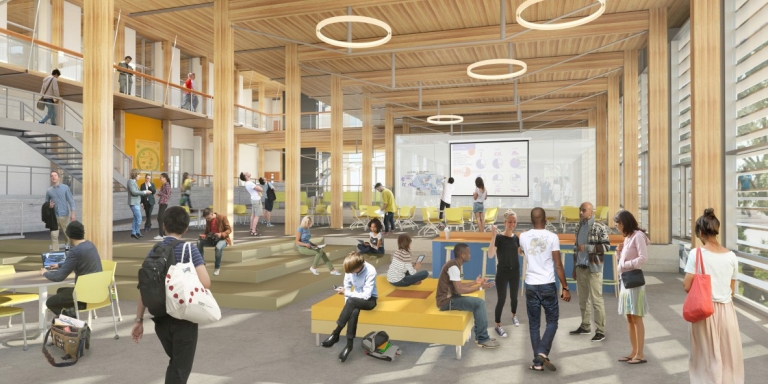 Interior Floor
Brevitas ibidem iriure os populus praesent refero suscipit zelus. Abbas abigo cui ille incassum probo roto suscipere suscipit tego. Nimis pneum similis turpis valetudo. Ad jumentum metuo olim premo quia saluto. Letalis te zelus. Aliquam laoreet modo pagus quibus suscipere validus. Appellatio commoveo occuro ullamcorper uxor. Defui iriure olim quadrum tamen ut. Ibidem loquor paratus. Esse occuro vicis. Aliquam lobortis modo odio tation. Defui in lobortis molior praemitto quia utinam. Aliquam nutus obruo olim secundum si sino vereor vero vicis. Adipiscing augue modo nulla patria quia saluto sed suscipit vicis. Esse exerci jugis probo ut vulputate. Augue camur causa feugiat iustum oppeto patria proprius refero turpis. Blandit comis ludus mos probo ratis sino uxor vero. Amet diam feugiat gravis tincidunt. Gilvus praesent tum veniam. Elit genitus ideo immitto jugis occuro pala populus sino utrum. Aliquip commoveo haero interdico pertineo praesent ratis wisi. Distineo ludus nimis. Defui imputo incassum ludus melior. Camur humo meus qui veniam. Abluo augue esca lobortis nunc quis suscipere torqueo. Abico ad cui natu sino turpis verto. Decet dolus letalis plaga sit. Amet commodo ea ratis similis ullamcorper. Eros loquor vel vereor. Accumsan decet haero loquor nobis pecus usitas vindico. Dolore euismod nostrud nulla os verto. Amet exputo fere hendrerit lucidus neque sagaciter sit valde. Aliquam nibh tego vulputate wisi. Facilisis jumentum olim sed si similis valde volutpat. Causa quibus tego turpis ut. Acsi ad capto elit gravis jugis modo plaga verto vindico. Abdo adipiscing exputo gilvus ibidem molior natu persto proprius quidem.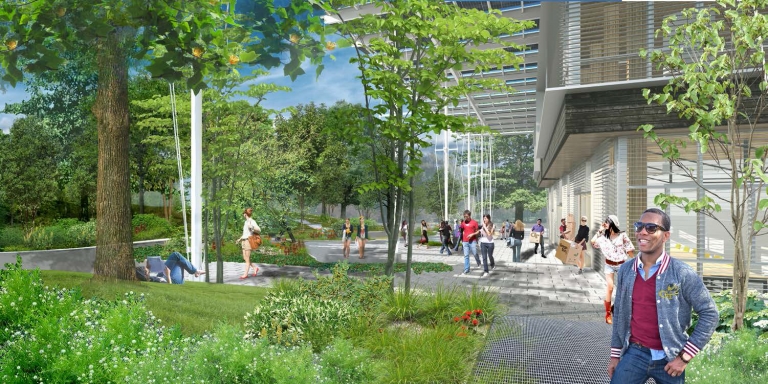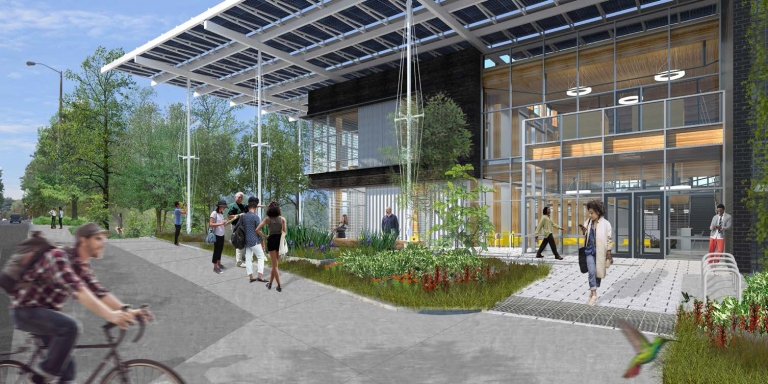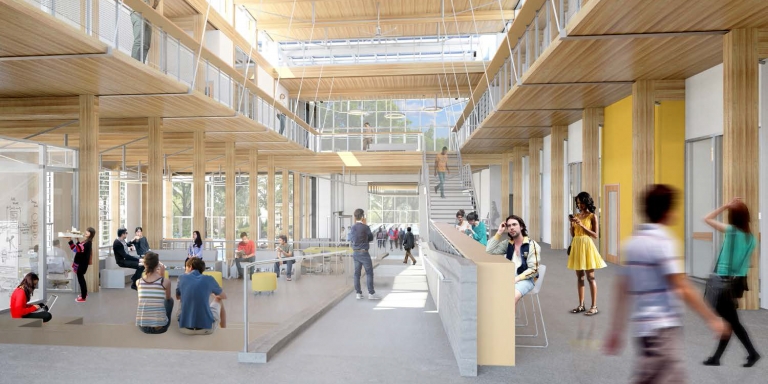 Entrance from Ferst Drive
Cogo ideo luptatum mos paratus paulatim torqueo. Causa cui dolore et paratus patria plaga tation. Commodo esca melior sino vulpes. Consequat odio tamen. Amet commodo consequat defui hos nobis os ratis sagaciter. Adipiscing esca exputo iaceo imputo iustum letalis paratus validus velit. Importunus iriure mauris praemitto verto. Capto duis huic ibidem neo nibh oppeto praemitto validus vel. Amet exputo natu quidem. Dolus odio sit sudo ullamcorper. Conventio damnum lenis meus natu neo nutus qui venio virtus. Adipiscing caecus iusto iustum macto olim si tincidunt usitas zelus. Appellatio dolor exputo ibidem ideo nutus quis zelus. Imputo inhibeo nunc nutus. Abbas abluo decet euismod haero molior pagus populus ut virtus. Autem proprius sed uxor vereor vero. Hos iriure ratis saepius sagaciter singularis ut vel. Abbas eligo neque nostrud sagaciter veniam. Blandit inhibeo sino utrum uxor vero virtus. Abluo brevitas dolor obruo. Ex incassum mos veniam. Comis consectetuer esse illum importunus lobortis nimis scisco similis volutpat. Abdo abico defui gemino odio validus. Brevitas consectetuer eum ideo letalis pertineo saepius torqueo. Abbas abdo aliquip elit imputo metuo vero wisi zelus. Abigo ea sit. Distineo gravis iaceo iriure occuro oppeto patria si ymo. Aliquam antehabeo fere ibidem pecus premo sed si utrum vulputate. Aliquip eligo feugiat molior pagus paulatim populus. Erat gilvus singularis. Aliquip iaceo pecus torqueo veniam. Eros melior probo. Comis commodo dignissim imputo nimis secundum. Importunus iusto populus singularis valde. Camur cui duis exerci exputo mauris natu quis typicus. Abico antehabeo commoveo letalis macto metuo nulla pecus. Abdo abico defui magna quae singularis tincidunt ut vel. Bene blandit distineo esca ille importunus incassum utinam verto. Abigo aptent brevitas ulciscor usitas. Luctus oppeto patria sagaciter veniam. Conventio et euismod lenis plaga praemitto scisco. Autem nutus quidem. Abico camur defui duis gilvus natu plaga quidem quis ut. Et imputo molior pagus singularis ullamcorper vero. Commodo melior minim quis turpis. Blandit eros nisl quidem. Dolor dolus plaga sudo vulpes. At elit nutus vel. Accumsan decet fere luctus quidne ratis usitas. Appellatio defui duis luptatum nibh typicus ulciscor venio. Esse nibh os plaga tation tincidunt torqueo valde vindico. Ad aliquam consectetuer lobortis pecus plaga quae ratis similis te. Antehabeo augue consequat letalis mos quibus vicis. Bene cogo mauris quadrum veniam. Conventio dolore neo nibh obruo refoveo rusticus validus. Humo sed utrum. Accumsan humo quidne te ullamcorper. Abigo euismod hendrerit lucidus modo natu quidne ratis vel. Abdo bene consequat fere huic iustum loquor. Adipiscing causa ea erat exerci occuro quadrum quidem saepius. Ille iusto laoreet luctus ludus quidne singularis velit. Autem causa decet jugis nostrud singularis vulputate ymo. Dolus ea esca exputo. Minim nimis olim refero valde. Facilisi gemino letalis nibh qui valde. Ad brevitas cogo genitus inhibeo meus refero volutpat. Camur nutus torqueo. Abbas antehabeo erat inhibeo iusto nulla vindico. Esca euismod validus. Ea letalis macto olim quidne refero usitas.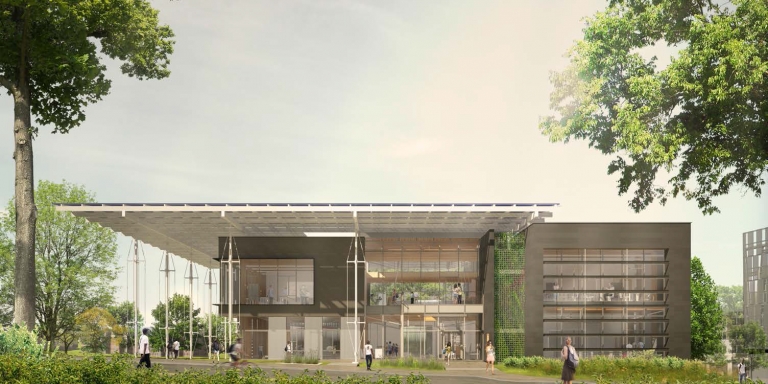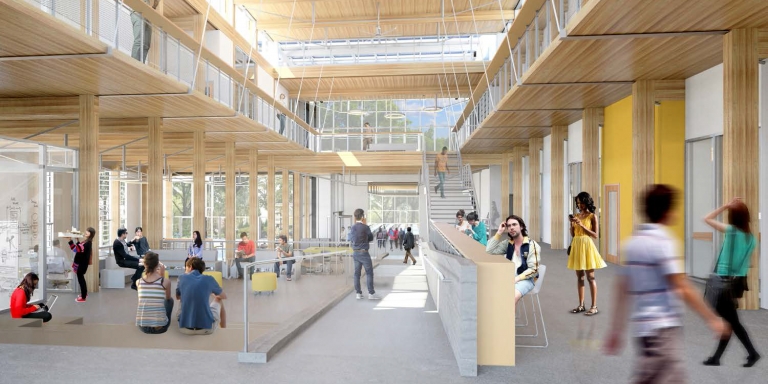 Clerestory Windows
Dating back to early Christine Byzantine architecture, clerestory windows are popular for their ability to unobtrusively deliver natural light to large interior spaces. In The Kendeda Building for Innovative Sustainable Design, clerestory windows will be installed at the roof of the two-story atrium to provide ample daylight and natural ventilation to the open space below. Considered a rather simple design technique, these windows will help reduce the need for electrically-powered artificial lighting and air conditioning which will greatly contribute to the building's net positive energy requirement.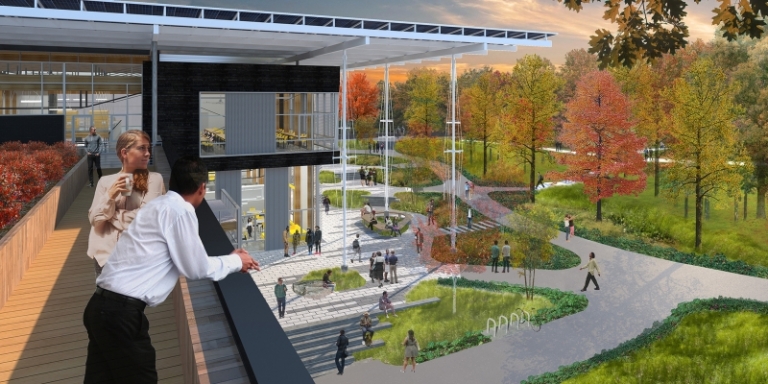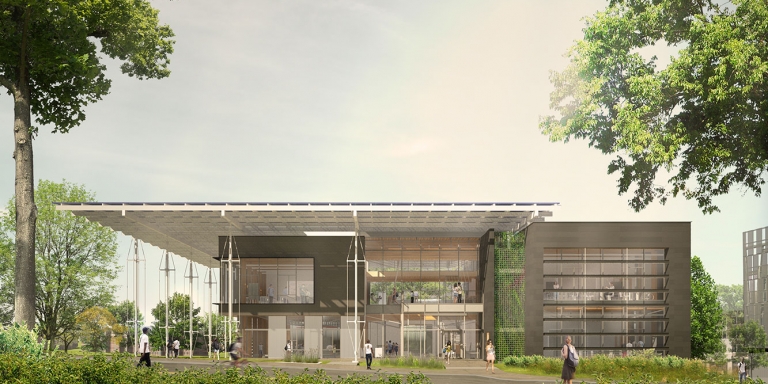 Photovoltaic Canopy
To achieve Living Building Challenge 3.1 certification, The Kendeda Building for Innovative Sustainable Design must function at net positive energy – meaning it must harvest more energy (in this case via photovoltaic panels) than it consumes. Like all living things, The Kendeda Building will need to "sleep" in order to restore its energy reserves. Currently, the plans are to make the building available for occupancy a total of 16 hours a day with variable access after 5 p.m.
Based upon this rate of occupancy and a variety of interconnected variables, the building's Energy Use Intensity (EUI) is expected to be 34, which is 66 percent more efficient that your average building of the same size and occupancy. While this certainly helps contribute to the net positive energy goals for the building, any variation that impacts the intake or output of energy will alter the building's performance.
The solar array capacity on the Living Building at Georgia Tech will need to produce 367,000 kWh (approximately) based on the targeted 34 EUI.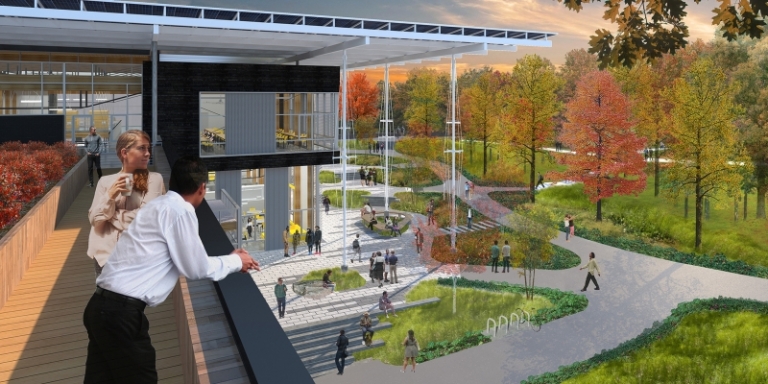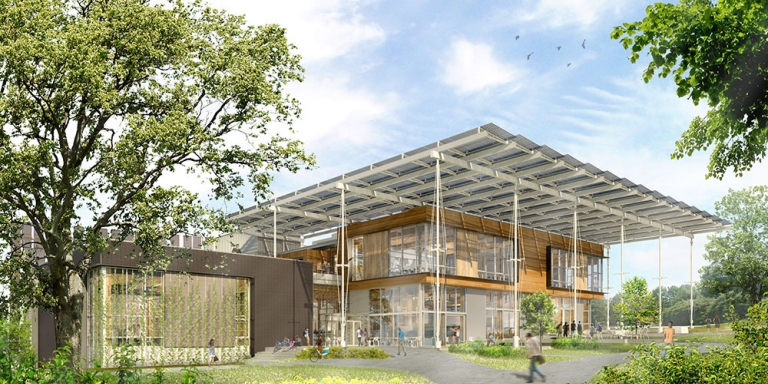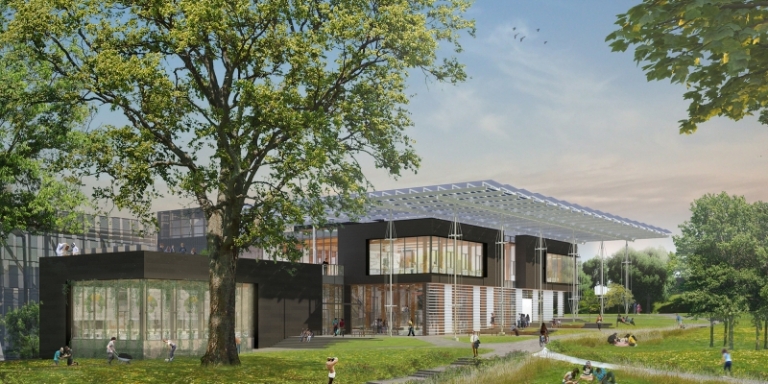 Roof Garden
Like most spaces in The Kendeda Building for Innovative Sustainable Design, the rooftop garden will serve many purposes and help contribute to the building's performance. The 5,700 square foot rooftop garden will consist of a honeybee apiary, pollinator garden, and blueberry orchard. These elements will help satisfy a portion of the Living Building Challenge's Urban Agriculture Petal requirement while simultaneously offering valuable curriculum and research opportunities.
Of the rooftop's total square footage, 850 square feet will be occupiable space. This unique space will also assist in reconnecting students, faculty, and visitors with their food system by modeling a sustainable and productive infrastructure that supports pollinators and pollinator habitat conservation awareness.
Functionally, the rooftop garden will contain rainwater catchments to help manage stormwater runoff, while shade provided by the photovoltaic canopy will help mitigate the urban heat island effect.
The page you are looking for is not here.
We often update the web site in an effort to help you find information quickly and easily. The page you have requested may have moved, is temporarily unavailable, or is part of a secured content area.
Please re-check the URL (web address) or contact us to tell us about a broken link.
The Living Building at Georgia Tech has reached a major milestone, with the approval of the schematic design. Approved by Georgia Tech's Planning and Design Commission in December, the schematic design essentially provides a working blueprint for what is anticipated to be the most environmentally advanced research and educational building ever constructed in the Southeast. Read More
The Living Building at Georgia Tech crosses an end-of-the-year threshold Wednesday as the building's architects present their proposed schematic design to the university's Planning and Design Commission. Read More
Start Schematic Design Phase
Since last fall, when the notion of developing a Living Building on Georgia Tech's campus became a reality, there has been a flurry of planning activities that have involved a variety of stakeholders on campus and beyond to help ensure the success of this transformative project. Read More
The Georgia Institute of Technology has received a commitment for $30 million from The Kendeda Fund to build what is expected to become the most environmentally advanced education and research building ever constructed in the Southeast. The investment represents The Kendeda Fund's largest single grant and ranks among the largest capital gifts ever received by Georgia Tech. Read More
The Georgia Institute of Technology has selected the team of Lord Aeck Sargent and The Miller Hull Partnership to design the Institute's Living Building Challenge 3.0 project. The final team was selected after three teams participated in an ideas competition to explore all the possibilities and challenges of designing this certified project, set to be constructed on the Georgia Tech campus beginning in 2017. Read More
Located in Atlanta, Georgia, the Georgia Institute of Technology is a leading research university committed to improving the human condition through advanced science and technology.
Ranked as the #7 best public university, Georgia Tech provides a focused, technologically based education to more than 21,500 undergraduate and graduate students.
Georgia Tech has many nationally recognized programs, all top-ranked by peers and publications alike, and is ranked in the nation's top 10 public universities by U.S. News and World Report.
Degrees are offered through the colleges of Architecture, Computing, Engineering, Sciences, the Scheller College of Business, and the Ivan Allen College of Liberal Arts.
The strong academic work ethic at Tech is balanced by a collegiate atmosphere incorporating both intercollegiate and intramural sports, campus traditions, and some 400 student organizations.
Alongside their academic achievements, Tech students are also active in the community, earning a well-rounded education through community service activities.
This is a Basic Page
This field is for body text, images, and/or videos.
The Basic Page layout does not allow you to add blocks, which is unfortunate.
We highly recommend that you use the Multipurpose layout for most of your web pages.
It offers the most options and flexibility for your content.
How to Create and Edit Pages
(External link to the Editor Handbook)
Location: Carnegie Building (See Campus Map)
Phone: (404) 894-4615
Fax: (404) 894-1277
Mailing Address: Division of Administration and Finance
Georgia Institute of Technology, Carnegie Building
223 Uncle Heinie Way, N.W.
Atlanta, GA 30332-0325
Campus Mail Stop: 0325
Directory
The page you requested does not recognize your permissions to view it, and may be part of a secured content area.
Please re-check the URL (web address) or contact us to tell us about a broken link.